High-impact kitchens
The kitchen is the heart of any house or flat – and this needs to be obvious. Today's kitchen not only needs to be state-of-the-art in terms of function, it should also look really eye-catching – for example, through carefully chosen effects in the surface design.
12 Jan 2022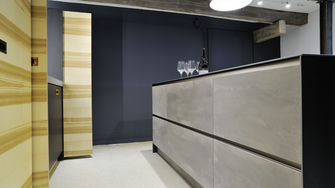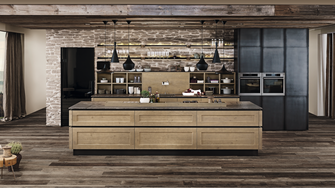 Shining highlight
As part of the redesign of a loft apartment, the architect's office Atelier Gitterle created a kitchen that is literally a shining highlight in collaboration with Tischlerei Gitterle, a carpentry workshop that bears the same name and is likewise based in the Landeck district of Tyrol. Whilst the other rooms have been given a calm feel with shades of black, white and grey, it was decided that the kitchen should provide a striking contrast with a warm shade of gold. The architect and the building contractor decided against the idea of using real metal for the kitchen fronts: they would feel too cold, the surfaces would be too sensitive, and too difficult to finish. Instead, they opted for painted fronts: at Tischlerei Gitterle, the MDF boards were first of all coated with ADLER Pigmopur-Metallic, followed by a topcoat of ADLER Legnopur G10 to provide strong protection, which is absolutely essential in the kitchen.
Pure metal
A warm feel, straightforward finishing, a robust surface – and on top of it all, the greatest possible diversity in terms of design: high-quality furniture varnishes offer the perfect solution for high-impact surfaces. In the range offered by ADLER, Austria's leading manufacturer of paints and varnishes, you will find the right product for any requirement and any area of application – from a leather look to a raindrop effect, from an aged wood look to a marble effect. Especially authentic surfaces can be created with ADLER's genuine metal coatings. Unlike many conventional special effect finishes, they don't just pretend – they actually do contain real metal powder: iron, brass, bronze or copper. This ensures a natural metal look, without the need to forgo the ease of use of a regular paint. And through the addition of Aquafix Oxid or Aquafix Blue-Patina, which both come in a practical spray bottle, you can also achieve an unusual rust look or an intense blue/green patina.
Rough concrete
As well as the metal look, concrete surfaces are currently very much in demand, in both the kitchen and for furniture – here too, paints can offer a good solution with their many advantages in terms of durability and ease of application. The real concrete paint ADLER Bluefin Pure-Concrete is easy to apply using a paint sprayer. Applying a special polyethylene film to the paint when it is still wet gives the surface its characteristic off-shutter look. An especially rough surface structure can be achieved with ADLER Betoneffekt which is applied with a metal palette-knife and then painted over with a topcoat for robust protection. Whether they are used on individual fronts or across the whole kitchen, in combination with natural real wood surfaces or with colourful accents: with this diverse range of design effects from the ADLER paint tin, any kitchen can become a unique interior design highlight.
ADLER – paint runs through our veins
With 670 employees, ADLER is Austria's leading manufacturer of varnishes, paints and wood preservatives. Founded in 1934 by Johann Berghofer, this family business is now managed by a member of the third generation, Andrea Berghofer. Every year, 22,000 tonnes of paint leave the Schwaz plant and are delivered to customers in more than 30 countries worldwide. ADLER has sales subsidiaries in Germany, Italy, Poland, the Netherlands, Switzerland, the Czech Republic and Slovakia; their sole production site is the ADLER-Werk Lackfabrik in Schwaz, Tyrol (Austria). ADLER was one of the first companies in its sector to be 100% climate-neutral (since 2018). The company has been able to reduce its carbon footprint to a minimum through a wide range of measures. ADLER offsets any unavoidable residual emissions through the purchase of recognised climate protection certificates, thereby helping to finance new climate protection projects.