ADLER Legno Dura-Öl: Natural look, reliable protection
The matt look and velvety feel of an oiled surface? Or rather the resistance of a varnish? Until now, wood processors have had to choose between these two options. But now Austria's leading paint manufacturer ADLER offers a product that can do both: The new Legno Dura-Öl combines the best of both worlds of varnishes and oils.
6 Apr 2020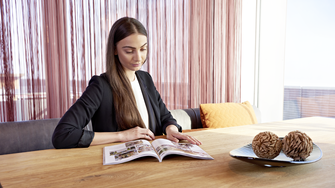 The best of both worlds
It looks and feels as if it has been oiled: velvety soft, deep matt, with elegant pore patterns and beautiful grain accentuation. But while oiled surfaces are otherwise considered to be hypersensitive and are not forgiving of scratches or water, coffee or red wine stains, these everyday signs of wear do no harm to Legno Dura-Öl: With its very high chemical and mechanical resistance, the oil is in no way inferior to modern furniture varnish. How is that possible? Michael Gründhammer, the oil specialist in ADLER's development laboratory, knows the answer, "Unlike most oils, Legno Dura-Öl forms a thin film over the surface – so thin that it is practically invisible and imperceptible, but still sufficient for outstanding surface protection".
Processing miracle

Another advantage: Due to its special recipe Legno Dura-Öl is unbeatable in processing. Unbeatably efficient, because any laborious manual wiping out of the oil is no longer necessary – two coats with a light smooth grinding in between are sufficient. Unbeatably fast thanks to quick drying, which allows the application of two coats in a single day. And unbeatably versatile, because the oil can be applied not only with a brush and roller, but also by means of the spraying method. This means that even large surfaces such as interior doors can be coated in a very short time. And regardless of whether the processor uses a brush, roller or spraying machine: the surface is always even and homogeneous thanks to the outstanding gradient.
All-rounder
Thanks to its high resistance, Legno Dura-Öl is also suitable for areas where other oils reach their limits, such as table tops, kitchen fronts and other heavily stressed surfaces. The wood oil is also excellently suited for parquet floors and stairs, because Legno Dura-Öl guarantees perfect grip due to its high slip resistance class. In addition, the coating scores with its extraordinarily natural appearance. The incomparable look and feel of an oiled surface, plus the durability of a high-quality furniture varnish – this unique combination makes Legno Dura-Öl a highlight for all wood processors.
ADLER – paint runs through our veins
With 620 employees, ADLER is Austria's leading manufacturer of varnishes, paints and wood preservatives. Founded in 1934 by Johann Berghofer, the family business is now managed in its third generation by Andrea Berghofer. 18,000 tonnes of paint leave the Schwaz plant every year and go to customers in more than 25 countries worldwide. ADLER has sales companies in Germany, Italy, Poland, the Netherlands, Switzerland, the Czech Republic, and Slovakia; the only production site is the ADLER-Werk Lackfabrik in Schwaz / Tyrol (A). ADLER is the first company in its industry to be 100% climate-neutral since 2018.