New system, better service
ADLER's application technique is not only the place where new paint recipes are tested under practical conditions. It also supports customers in the development and configuration of their coating systems. To further expand this service, ADLER has supplemented its machinery with an excimer system.
21 Jan 2020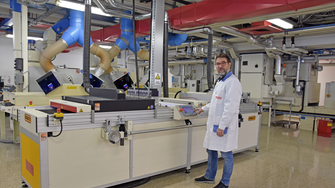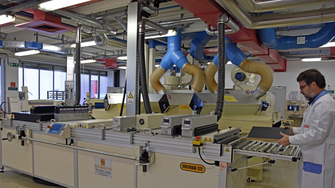 Extremely low degree of gloss, extremely scratch-resistant surface: what has long been considered a contradiction in terms is made possible by excimer technology. The process is as simple as it is ingenious: The paint film is treated with short-wave radiation in the absence of oxygen. The excimer rays cause a micro-folding effect in the outer coat. This effect cannot be seen or felt, but provides a perfectly matt appearance due to the light reflection. The advantages are obvious: dull matt degrees of gloss from 3 to 20 without matting agents and an extremely scratch-resistant, chemical-resistant and hard surface, as you would expect from UV paints – and all this with maximum process reliability.
Perfectly matt
ADLER's development team has been working on this innovative coating technology for several years. "Thanks to this experience, we are able to guarantee our customers not only the best advice, but also suitable low-emission UV paints," says development manager Reinhard Berghofer-Guem. In this way, the range of colourless and pigmented excimer paints for many types of application is to be gradually expanded. Here the new excimer system plays a central role in ADLER's application technique. New recipes can be tested extensively under practical conditions, and the system also allows customers to support them in developing their own excimer. The laboratory facility has several variable radiation sources that can be arranged in any order. This means that all conceivable processes and settings can be simulated realistically. "This enables us to provide our customers with optimum support in the development of their excimer system," explains Reinhard Huber, head of ADLER application technique for the furniture industry. The ideal processes can be determined under laboratory conditions and matched to the planned coating structure to achieve the best possible overall package. When it comes to optimising processes and finding suitable solutions, our experienced employees are the best people to contact!
More information about excimer technology here!