ADLER woodboards: elegant materials in perfect harmony
A perfect mix of materials, well-matched in terms of look and feel: that's the basis for high-quality design, whether you're dealing with furniture and interior spaces or an exterior facade. With twelve highly unusual material boards, Austria's leading manufacturer of paints and varnishes, ADLER, provides plenty of inspiration for creative woodworkers.
8 Mar 2023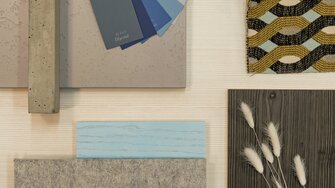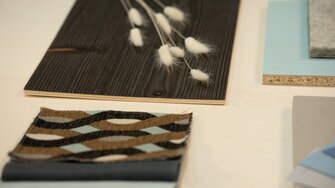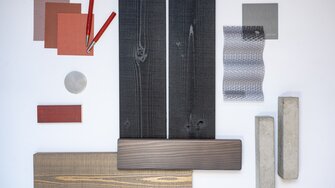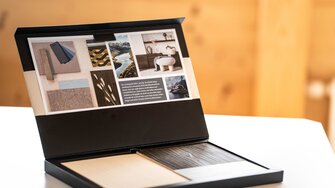 One-to-one advice, individually tailored solutions and high-quality implementation: that's the recipe for success that enables woodworkers and joiners, window manufacturers and carpenters to satisfy their customers and enjoy success in the market. "It's important that you don't just focus on the individual workpiece, but rather that you consider the entire room or space and carefully coordinate the colours and materials you use." So says Barbara Poberschnigg from STUDIO LOIS, Austria's architect of the year for 2022. In her collaboration with ADLER, she has created twelve inspiring ADLER woodboards: Six material boards for outdoor areas show design options for coated wooden windows and facades, together with further materials such as metal flashings. The six woodboards for interior areas show woods with various different stains that are combined with handles, upholstery covers or wall paints. "Stains give you almost unlimited scope for creativity so you can get the best out of each type of wood. That's why we made a conscious decision to work with stained woods on the woodboards for interior areas," explains ADLER's Head of Marketing, Christian Laucher.
Creating atmosphere
Barbara Poberschnigg describes the configuration of the ADLER woodboards as an "orchestra of materials": you have the violins, which can almost always be heard and therefore need to sound quite subtle – "in the context of a room, that would, for example, be a light-coloured wood that is used for furniture, flooring or the ceiling." Other instruments such as the timpani or the triangle provide individual but strong highlights – this might be a powerful colour used on a particular piece of furniture, or a lovely dark/light contrast. The mix of materials used is what gives each space its individual atmosphere. For example, a cosy Scandinavian feel, as conveyed by the interior woodboard "Nordic Blue", which creates an atmosphere of total calm with its light-coloured stained surfaces (ADLER Arova Style) that is then enlivened with contrasts: with the strikingly positive stain finish of ADLER Arova Alpin Trend on roughly brushed spruce, the cool blue of the coloured stain ADLER Arova Colora, and the real concrete surface of ADLER Bluefin Pure-Concrete. Design ideas for outdoor areas are provided by the exterior material board "Black Gold": here we can see the metallic glaze Lignovit Platin in elegant shades such as Hematitschwarz and Nascagold, set against a powerful contrast colour, Thulitrot. The window glaze Aquawood Finapro Carat in Pyritgrau completes the overall look.
Craftspersons as consultants
The materials are intended as an aid for carpenters and joiners, enabling them to give their customers competent and well-founded advice and offer them individual solutions, thus generating real added value. "The boards can also provide an incentive to purchase additional high-quality materials in addition to the original item of furniture – for example, special fittings, handles or upholstery covers," ADLER's Head of Marketing Christian Laucher suggests.
ADLER – paint runs through our veins
With 720 employees, ADLER is Austria's leading manufacturer of varnishes, paints and wood preservatives. Founded in 1934 by Johann Berghofer, this family business is now managed by a member of the third generation, Andrea Berghofer. Every year, 21,000 tonnes of paint leave the Schwaz plant and are delivered to customers in more than 30 countries worldwide. ADLER has sales subsidiaries in Germany, Italy, Poland, the Netherlands, Switzerland, the Czech Republic and Slovakia; their sole production site is the ADLER-Werk Lackfabrik in Schwaz, Tyrol (Austria). ADLER was one of the first companies in its sector to be 100% climate-neutral (since 2018). The company has been able to reduce its carbon footprint to a minimum through a wide range of measures. ADLER offsets any unavoidable residual emissions through the purchase of recognised climate protection certificates, thereby helping to finance new climate protection projects.