Traditional craftsmanship meets high-tech
In the Austrian community of Mondsee, Villeroy & Boch produce high-end bathroom furniture made of wood: in absolute top quality and with a strong focus on sustainability – and with elegant painted and varnished surfaces by ADLER.
27 Jan 2023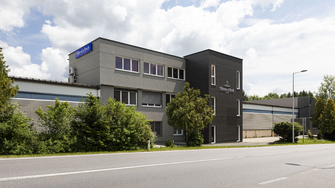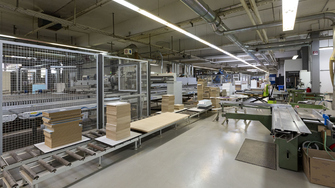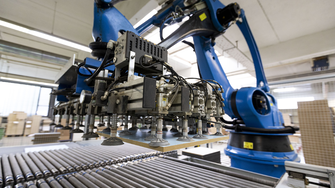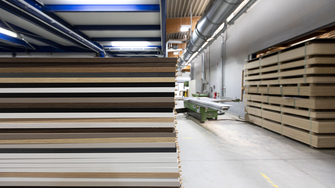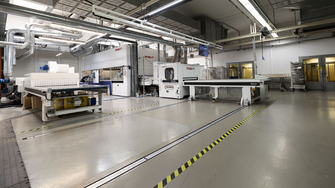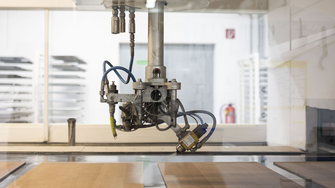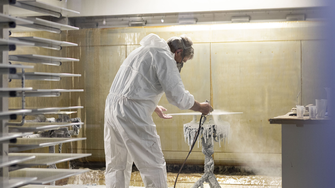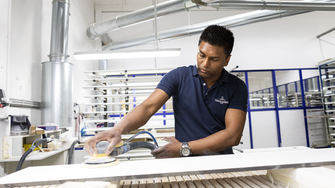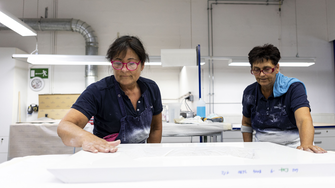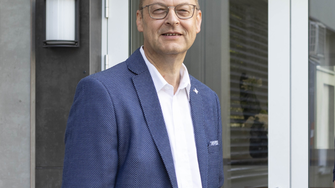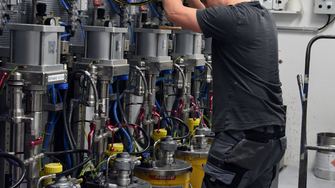 There are plenty of traditional companies around. But this is a company whose history of success goes back more than 270 years – and that is certainly something unusual. Villeroy & Boch was founded exactly 274 years ago – and in the course of these 274 years this ceramics manufacturer has developed into one of the world's leading all-round providers for bathrooms and wellness, as well as for the dining and lifestyle sector. Being an all-round provider means that customers planning a new bathroom can not only get their wash basin, bath or sanitary equipment from Villeroy & Boch, but also the furniture to match – and in the best possible product quality and design. Around 50,000 items of furniture are manufactured each year in the Austrian town of Mondsee: bringing together high-tech and the precision of traditional craftsmanship and using high-quality materials, from the wood right through to the finish, with coatings by ADLER.
Tradition and innovation
Like the family business of Villeroy & Boch, the furniture factory in Mondsee is also a company with a rich tradition: it was founded in 1890 as a typical village carpentry, expanded in 1972, and since 1991 has been the main production site for Villeroy & Boch's bathroom furniture. "The scent of tradition, the spirit of the future": staying true to this motto, they are committed to using a mix of traditional craftsmanship and automated processes, combining the two with absolute precision – "this allows us to ensure our high quality standards whilst being able to efficiently produce a highly complex range with a multitude of different designs and materials," explains Herbert Stabauer. Stabauer is a qualified master carpenter and has been working for the company for more than 40 years. He is now Managing Director and Plant Manager and is responsible for overseeing the production of Villeroy & Boch's bathroom furniture in Mondsee. If you take a walk around the factory, it soon becomes clear how this finely coordinated combination of manual and machine tasks is achieved: the handling of the boards – more than 200 different materials are held in stock – as well as cutting and sanding are for the most part done with machine power. A robot takes the boards out of the warehouse, where they are stored horizontally, and brings them to a fully-automatic saw. An edge banding machine, a CNC milling machine with a 68-tool automatic tool changer and a sanding machine take on the subsequent steps in the process. Yet sometimes a little more skill and dexterity is called for – for example, the solid wood edges are sanded by hand to ensure the best possible coverage of paint or varnish on the edges when the coating is applied.
Double is more durable
In the coating process too, automation with high-tech equipment goes hand in hand with authentic, high-quality craftsmanship. Parts that have complex geometrical shapes or very small batch sizes are coated by the team at the spray stand. Intermediate sanding is also sometimes done by hand, and the trained eye of an experienced employee takes responsibility for the final quality inspection of painted or varnished surfaces. Alongside this, a UV coating plant with a fully automatic coating machine ensures perfect surfaces in no time at all. Here the boards are first of all cleaned and de-ionised and a 3D scanner is then used to calculate the geometry of the workpiece – the key prerequisite for optimal application of the coating. The pistols of the coating machine then coat the surfaces and edges with the high-quality water-based UV paint system Pigmolux DC from Austrian manufacturer ADLER. "DC" stands for "dual cure" because the paint is cured twice: "with a classical hardener on the one hand and UV radiation on the other, we can achieve the best possible cross-linking of the paint or varnish. This guarantees fast throughput times as well as the resilience, elasticity and wet adhesion that is required in bathroom furniture," explains ADLER's Head of Sales Christian Schütz. Villeroy & Boch worked with ADLER's technicians to fine tune the water-based UV coating so that it would perfectly suit their requirements – "the especially fine structure of the coating gives the surface the best possible anti-fingerprint properties, as well as excellent resistance to the formation of shiny areas," Schütz tells us.
All-round sustainability
As well as delivering great surface quality, this ADLER coating also impressed Villeroy & Boch with its efficiency: "With Pigmolux DC, we can work with a single-layer coating system, without making any compromises on surface quality," says Herbert Stabauer. This speeds up the production process and reduces consumption of both energy and materials – an important contribution to a sustainable production process. "The topic of sustainability is in general a top priority for us," Stabauer emphasises. The company uses environmentally friendly materials and processes, but it goes much further than this. It's also important to this family business to ensure the careful use of resources. Let's look at some examples. An optimisation system reduces wastage during cutting of the boards. And at the other end of the production process, the boxes for packaging the items of furniture are tailor-made for each item – this saves on materials and reduces damage during transport to almost zero. The coating plant is equipped with a water sprinkler system and the water used comes from a 30,000-litre rainwater tank. "This has enabled us to halve our water consumption, and the use of soft water means that our cleaning costs have also been reduced," Stabauer tells us. The factory's clear commitment to the town of Mondsee with the provision of around 100 jobs, the fact that 100% of the electricity they use is generated by hydro-electric power, and their collaboration with a regional haulage partner are all part of Villeroy & Boch's sustainable corporate culture. The fact that the paint and varnish manufacturer ADLER have their headquarters just a two-hour drive away in the town of Schwaz in Tyrol fits in perfectly with this concept. Herbert Stabauer underlines: "Here at Villeroy & Boch, we never do things by halves – we always set the bar high, for ourselves and also for our business partners. When it comes to quality, innovation and sustainability, ADLER have high standards that are similar to our own – this creates a good basis for a strong partnership."
ADLER – paint runs through our veins
With 720 employees, ADLER is Austria's leading manufacturer of varnishes, paints and wood preservatives. Founded in 1934 by Johann Berghofer, this family business is now managed by a member of the third generation, Andrea Berghofer. Every year, 21,000 tonnes of paint leave the Schwaz plant and are delivered to customers in more than 30 countries worldwide. ADLER has sales subsidiaries in Germany, Italy, Poland, the Netherlands, Switzerland, the Czech Republic and Slovakia; their sole production site is the ADLER-Werk Lackfabrik in Schwaz, Tyrol (Austria). ADLER was one of the first companies in its sector to be 100% climate-neutral (since 2018). The company has been able to reduce its carbon footprint to a minimum through a wide range of measures. ADLER offsets any unavoidable residual emissions through the purchase of recognised climate protection certificates, thereby helping to finance new climate protection projects.