Effective cleaner and degreyer based on oxalic acid for weathered and grey wood for DIY and professional use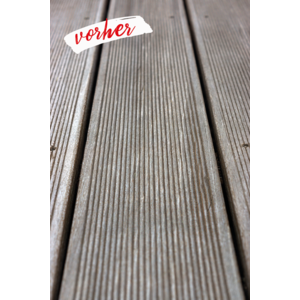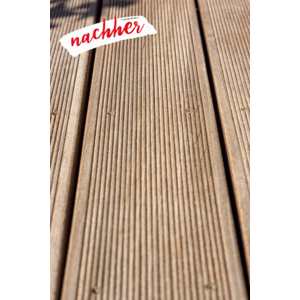 Effective cleaner and degreyer based on oxalic acid for weathered and grey wood for DIY and professional use
Article number:9634811
Application method:
Attention: use wood preservatives safely. Always read the label and product information before use.
The slightly thixotropic product acts as an effective cleaner, degreaser and brightener. Restores the wood to its original colour (using bleach) and is biodegradable. Contamination, wood constituents and discolouration caused by metals can be gently removed. Intact coatings are not attacked.
Basis of the system
Advantages of the product
Gives back the original colour shade to the wood
biodegradable
Mild bleacher
Slightly thixotrop
Will not corrode faultless coatings
French Ordinance DEVL1104875A regarding the labelling of construction coating products with respect to their emission of volatile pollutants: A+
Special features
Wood protection
UV resistance
good weather resistance
Hazard warnings
Danger

H318

Causes serious eye damage.

P101

If medical advice is needed, have product container or label at hand.

P102

Keep out of reach of children.

P103

Read label before use.

P280

Wear protective gloves/protective clothing/eye protection/face protection.

P310

Immediately call a POISON CENTER/doctor/…
Area of application
Weathered and grey wood, like for example garden furniture, terraces, timbering, balconies etc.
Preliminary treatment of tropical wood which is rich on wood extractives.
Cleaning of tools