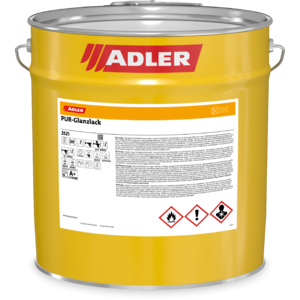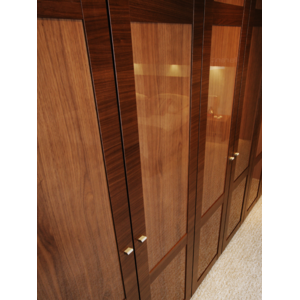 Article number:2528303
Yield: approx. 100 g/m² per coat;
Total quantity applied ADLER PUR-Glanzlack (gloss paint) 25283 max. 350 g/m².
For high-gloss surfaces, we recommend applying the coat 2x with a spray gun, without intermediate grinding, with an intermediate drying time of 3 hours.
Application method:
Full-bodied, quick-dry polyurethane clear coat, very good mechanical and chemical resistance as well as excellent gloss and very good body.

Binding agent basis: Polyacrylate resin.

ADLER PUR-Glanzlack (gloss paint) 25283 features a special UV filter with a very powerful screening agent, protecting the wood and any wood stains used from premature yellowing and/or fading.
Basis of the system
Advantages of the product
Resistance to chemical impacts ÖNORM A 1605-12 - test 1 Rating category 1-B1
Scratch-resistance related characteristicsÖNORM A 1605-12 - test 4 Rating category 4-E ( 0.5 N)
Resistance to flame impingement ÖNORM A 1605-12 - test 5 Rating category 5-B(highly non-combustible furniture surface)
ÖNORM A 3800-1 (formerly B 3800-1) Flammability class highly non-combustible(formerly B 1)(in combination with a non-combustible surface and noncombustible basecoat)Smoke production classQ 1 (slightly smoking)Drop formation class Tr 1 (non-drip)
Special features
Area of application
For surfaces with excellent gloss of furniture and interior fixtures with sophisticated design as well as fur-nishings in kitchens and bathrooms. Application groups III to IV in accordance with ÖNORM A 1610-12.
Mix
3 parts PUR-Glanzlack

1 parts hardener

3 parts by weight or volume ADLER PUR-Glanzlack (gloss paint) 25283
1 part by weight or volume ADLER PUR-Härter (hardener) S 82040

pot life:8 hours