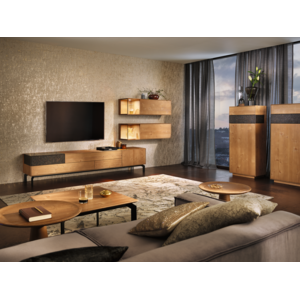 Article number:3046005
Application method:
Water-based one-component clear varnish for wood surfaces. Excellent chemical and mechanical resistance as well as cream and grease resistance; excellent grain accentuation, transparency and high build; good light-fastness; excellent firmness on vertical surfaces. The product contains a special filter with very high sun protection against early yellowing or fading. Varnish-on-varnish application possible.
Basis of the system
Advantages of the product
ÖNORM A 1605-12 (Furniture surfaces)Resistance to chemical reactions: 1-B1Response to abrasion: 2-D (≥50 U)Response to scratches: 4-D (≥1,0 N)
DIN 68861 (furniture surfaces)Part 1: Response to chemical stress: 1 BPart 2: Response to abrasion: 2 D (above 50 to 150 U/turns)Part 4: Response to scratches: 4 D (> 1.0 to ≤ 1.5 N)
ÖNORM A 3800-1 (Fire behaviour) in conjunction with a flame-retardant substrate:Flame-retardant (formerly B1 in accordance with B 3800-1), Q1, Tr 1
Highly non-combustible coating material for sea-going vessels (in accordance with SOLAS 74/88 Chapter II-2)
ÖNORM S 1555 resp. DIN 53160 Perspiration and saliva-proof properties
ÖNORM EN 71 Part 3 Safety of toys; Migration of certain elements (free of heavy metals)
Meets the criteria of baubook "Ecological invitation to tender"
French Ordinance DEVL1104875A regarding the labelling of construction coating products with respect to their emission of volatile pollutants: A+
Special features
Safety of toys
Perspiration and saliva proof properties
A+ Emission of volatile pollutants
Good light resistance
Without heavy metal
Suitable for shipbuilding
Hazard warnings
EUH208

Contains (name of sensitising substance). May produce an allergic reaction.

EUH210

Safety data sheet available on request.
Area of application
For high build varnishing of furniture and interior fixtures including kitchen and bathroom surfaces (excluding worktops): application areas II to IV according to ÖNORM A 1610-12 for example for kitchen, bathroom, school and hotel furniture, living and bed room furniture etc.
Ideal for varnishing chairs and other frame furniture, where excellent cream and grease resistance is required.
For highly non-flammable or flame-retardant structures.