"Water-based coatings are the future"
Water-based paints and varnishes are low in emissions and environmentally friendly – we all know that. But can they also compete with solvent-based products when it comes to surface quality and ease of use? A look at today's water-based coating systems provides the answer: Yes, they can – and in some areas, they even perform better. Reinhard Huber, qualified carpenter and application technologist at Austrian manufacturer of paints and varnishes ADLER, gives us an overview.
2 May 2023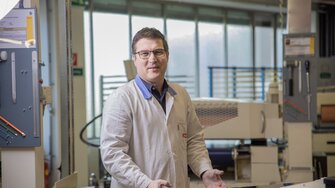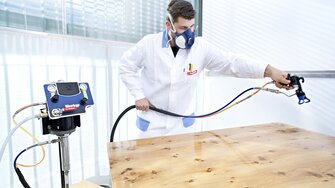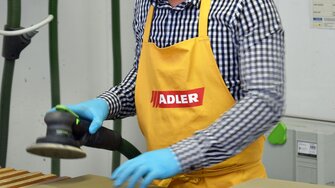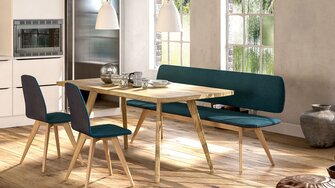 A long tradition
Water-based paints and varnishes are not a new technology – the first water-based coatings were developed as far back as 70 years ago. Yet it was not until the current increase in awareness of the environmentally damaging effects of solvent emissions that water-based paints and varnishes started to experience a real increase in popularity. Since the introduction of the 2004 Decopaint Directive, which places restrictions on solvent emissions, most industrial users have switched to using water-based systems. The situation is different in the carpentry and joinery trade – here, solvent-based products continue to dominate. Whilst businesses often invest in highly advanced technology for CNC milling machines and other woodworking machinery, they tend to stick to tried-and-tested products when it comes to surface finishing. Why is this actually? Not least due to the fact that some users may have had bad experience with water-based paints and varnishes some years ago – and have failed to notice the enormous amount of development that these products have undergone since then.
Highly advanced systems
Water-based paints and varnishes are less durable, perform badly in terms of yellowing and luminance and, to top it all, they're also difficult to apply – this is just a selection of the commonly held prejudices. There was a time when these views were not entirely unjustified: the first generation of water-based paints and varnishes did indeed lack resistance to cream and grease, and this meant that coated surfaces softened up after frequent touching – for example, on the armrests of chairs, on table tops and on doors. This problem has long since been consigned to the past: with today's raw materials and the corresponding experience in the development of paints and varnishes, the durability of surfaces coated with water-based coatings is just as good as it is with solvent-based products – from the gently yielding soft touch surface of ADLER's Bluefin Pigmosoft to the maximum durability of Bluefin Resist, which achieves a 1B level of durability when used as a single-component product. Apropos single-component: whereas solvent-based paints and varnishes are always used as two-component products, most water-based coatings offer both options. And while the pot life of solvent-based 2C paints and varnishes is often limited to a few hours, the newly developed Aqua-Crosslinker makes 2C use of many water-based paints and varnishes from the ADLER range considerably easier: the isocyanate-free crosslinking agent enables a pot life of three days and, if necessary, this can be extended by a further three days. The advantage: you no longer need to calculate exactly the quantity you need for a coating step or keep preparing new batches of paint or varnish. Instead, you can prepare the paint or varnish for several days' work all in one go – and you'll have less paint or varnish left over at the end.
Applying the coatings? Easy!
In general, today's water-based paints and varnishes are significantly more user-friendly than people think. Many water-based paints and varnishes take a bit longer to dry – but this is not only a disadvantage because, while opaque coated surfaces have to be recoated within 24 hours when using a solvent-based paint, a much greater time window is available with water-based paints. If you're in a hurry, try ADLER's new universal furniture varnish Bluefin Unistar: it can be sanded after just one or two hours and is block-resistant after drying overnight. The most important thing is to ensure the right conditions. The ideal setting is an air-conditioned drying room with regulated humidity in which the air is moving. And when actually applying the paint, it's also important to pay attention to the particular characteristics of water-based paints and varnishes: as the wood fibres are raised up to a greater degree, the surface needs to be properly prepared and sanded and, in some cases, the pores need to be brushed out. Intermediate sanding after the first coat of paint or varnish will ensure that the raised-up fibres are trimmed back. When it comes to the application of the paint or varnish itself, it is of course best to use equipment that is suitable for water-based products – the most commonly used spray-coating systems are anyway made of stainless steel nowadays so they do not create any problems in this respect. It's clear that the spray nozzles need to be suitable for the paint or varnish in question – pre-atomizing nozzles for water-based paints even create a somewhat finer film of coating than the standard nozzles used for solvent-based paints and varnishes. A further feature of water-based furniture paints and varnishes is their limited compatibility with woods that are rich in active substances – if these active substances in the wood are water-soluble, this can result in unattractive discolouration. Yet here too, there have been improvements: the new all-round varnish Bluefin Unistar can be applied directly onto oak surfaces. With other woods such as larch, it is currently not yet possible to do without a coat of solvent-based primer.
The full range of design options
And what's the surface like? In general, the various categories of paints and varnishes are primarily distinguished by the solvent that is used – in one, volatile solvents, in the other, water – but otherwise they are very similar. In accordance with this, all the usual surface effects can be achieved with either product group – from dull matt through to a high gloss finish, as well as a range of different special effects. As has always been the case, many water-based varnishes lack the unrestrained lustre of solvent-based coatings – but this can also be an advantage: the resulting surface looks more natural, which is more in line with current trends. This also applies to grain accentuation: in general, solvent-based varnishes produce stronger grain accentuation, whereas water-based varnishes retain the natural look of the wood to a greater extent. If stronger highlighting of the pores and annual rings is desired, this effect can also be created by using specially formulated water-based varnishes such as ADLER's Bluefin Unistar. And there's still more to discover in ADLER's box of tricks: the light protection component Aquafix UV 100, which is added to the varnish, not only increases its UV resistance and prevents yellowing of the wood, but also enhances grain accentuation.
The environment will thank you
Today's water-based paints and varnishes no longer have any relevant disadvantages in comparison to solvent-based products. But what are their advantages? First and foremost of course, their environmental credentials: whereas solvent-based paints and varnishes have a VOC content far in excess of 50%, the figure for water-based paints and varnishes is usually well below 8%. ADLER's Bluefin Unistar, the first furniture varnish to be awarded the Austrian Ecolabel and to gain "Cradle to Cradle" certification, has an even lower VOC content at 3%! Not only is this good for the environment, it also means better working conditions for the user: no unpleasant smell of solvents and a drastic reduction in the risk of fire and explosion, as well as in potential health risks for the person handling the paint or varnish. Water-based paints and varnishes are also much more straightforward when it comes to thinning and cleaning of machinery and equipment – both of which simply require water – as well as the disposal of filters and cleaning materials, and the long pot life means significantly less leftover paint or varnish. Much less crude oil is required in the manufacture of water-based paints and varnishes than is needed for solvent-based products. And finally, water-based paints and varnishes offer a unique opportunity to make a clear statement to your customers: high-quality items of furniture made of wood symbolise sustainability and a pleasant living atmosphere free from harmful substances – so it makes complete sense to choose environmentally friendly products for the finishing of their surfaces. Yet water-based paints and varnishes also have one further advantage that is often overlooked: they're cheaper! This might not seem logical at first glance, as the price per litre for water-based paints and varnishes is usually a little higher. But water-based coatings make up for this through the reduced quantities required and through the fact that less hardener or crosslinking agent needs to be added. If you use water-based paint or varnish as a single-component coating – which is absolutely sufficient for many areas of application – the costs can be reduced even further. The result is a cost saving for your paint or varnish of more than 15% – and that's not including the additional costs for thinners and cleaning agents!
Water-based coatings are the future!
All in all, the advantages of water-based coatings now definitely outweigh the disadvantages – not only for industrial users but also for smaller businesses. And this won't change in the future – quite the opposite. You only need to compare today's fuel prices with those of 20 years ago to see that the costs for all oil-based products will continue to rise. Furthermore, it is to be assumed that the statutory regulations in all areas related to environmental issues will become increasingly strict – if you are already working with water-based paints and varnishes, you won't need to worry too much about future changes in legislation. And the customer demand for eco-friendly products will continue to rise too – those companies that are well prepared for this will be among the winners with this development!
ADLER – paint runs through our veins
With 720 employees, ADLER is Austria's leading manufacturer of varnishes, paints and wood preservatives. Founded in 1934 by Johann Berghofer, this family business is now managed by a member of the third generation, Andrea Berghofer. Every year, 21,000 tonnes of paint leave the Schwaz plant and are delivered to customers in more than 30 countries worldwide. ADLER has sales subsidiaries in Germany, Italy, Poland, the Netherlands, Switzerland, the Czech Republic and Slovakia; their sole production site is the ADLER-Werk Lackfabrik in Schwaz, Tyrol (Austria). ADLER was one of the first companies in its sector to be 100% climate-neutral (since 2018). The company has been able to reduce its carbon footprint to a minimum through a wide range of measures. ADLER offsets any unavoidable residual emissions through the purchase of recognised climate protection certificates, thereby helping to finance new climate protection projects.