Top wood protection from ADLER - in the popular matt look
Wood protection has a name: Pullex! Anyone who wants to protect and finish balconies, canopies, fences or garden sheds in the long term relies on the high-quality products from ADLER - and is therefore not only always at the cutting edge of technology, but also at the pulse of time! Because even in this extraordinary summer, Austria's leading manufacturer of wood preservatives, varnishes and paints is not at all matt, but in top condition: the Tyrolean family business is launching the new Pullex Top-Mattlasur on the market.
3 Aug 2020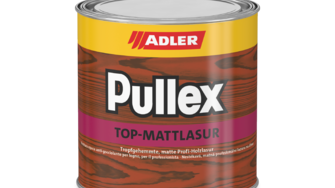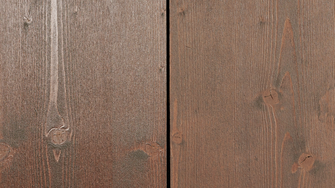 Success story
Behind this new development lies a success story spanning almost 15 years: Since its market launch in 2006, Pullex Top-Lasur has become one of the most sought-after wood finish products for demanding do-it-yourselfers and quality-conscious professionals. Whether new paint finish or rehabilitation - many painters and do-it-yourselfers particularly like to use ADLER's drip-inhibited wood glaze, which is particularly pleasant to apply and guarantees outstanding weather protection. However, the signs of the times have changed: "Whereas in the past, a coat of paint was allowed to shine, today, in the Alpine region, matt understatement is increasingly in demand," says ADLER's head of construction paint development Markus Feßler. Naturalness is the magic word - the wood should look as natural as possible. ADLER - naturally - meets this customer requirement and has developed the Pullex Top-Mattlasur for this purpose.
Multiple benefits
Thanks to a new matting technology, this wood glaze provides particularly elegant, matt and natural surfaces. It is open-pore and thin-layer - therefore there is no peeling. Nevertheless, it guarantees the best weather protection in the long term. Additional advantages have been incorporated into the new development: the Pullex Top-Mattlasur is even more drip-inhibited. "Thanks to our innovative thixotropic technology, the glaze liquefies during stirring and then becomes firmer again - so it can be easily spread overhead," explains Feßler. Apart from its easy processing, Pullex Top-Mattlasur also scores points with its universal applicability: "Pullex Top-Mattlasur is perfectly suited for new and care coatings as well as for renovation", the ADLER wood protection expert points out. So if you really like it matt, you should better grab a brush than lye in a hammock!
ADLER – paint runs through our veins
With 620 employees, ADLER is Austria's leading manufacturer of varnishes, paints and wood preservatives. Founded in 1934 by Johann Berghofer, the family business is now managed in its third generation by Andrea Berghofer. 18,000 tonnes of paint leave the Schwaz plant every year and go to customers in more than 25 countries worldwide. ADLER has sales companies in Germany, Italy, Poland, the Netherlands, Switzerland, the Czech Republic, and Slovakia; the only production site is the ADLER-Werk Lackfabrik in Schwaz / Tyrol (A). ADLER is one of the first companies in its industry to be 100% climate-neutral since 2018. ADLER has been able to reduce its carbon footprint to a minimum through a wide range of measures. ADLER offsets any unavoidable residual emissions through the purchase of recognised climate protection certificates, thereby helping to finance new climate protection projects.