Sustainability as a success factor
Sustainable products offer a classic win-win situation to companies who work with wood, says Dr Albert Rössler, Head of Research & Development at the Austrian coatings manufacturer ADLER: they open up new areas of business and at the same time facilitate improved safety and efficiency in the process of applying the coatings. In our conversation, Dr Rössler also talks about the many and diverse facets of sustainability, the challenges the company faces in the development process and the fascinating concept of the circular economy.
21 Jul 2021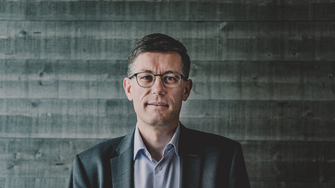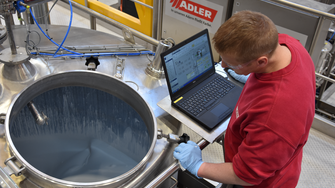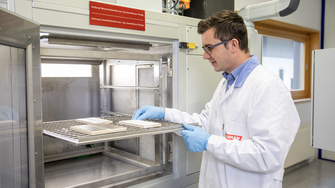 The subject of "sustainable coatings" is currently on everyone's lips. To what extent can a paint or varnish actually be sustainable?
Sustainability is an incredibly multifaceted topic which goes much further than classical environmental protection. At the end of the day, anything that doesn't have an negative impact on our environment can be described as sustainable, i.e. that doesn't have a damaging effect on the environment, our health, the climate or the amount of resources that are available. With our products, this means that using a high percentage of natural and renewable raw materials can be considered just as sustainable as not using substances that are toxic or harmful to the environment. Further important factors are safety in use, a low level of emissions and the consumption of materials and energy. The environmental aspect is of course important but there are also countless other aspects which create added value in terms of sustainability.
How long have sustainable paints and varnishes been around?
In actual fact, sustainable paints and varnishes were already in existence well before the term sustainability surfaced. Here at ADLER, we started focusing on the idea of water-based coatings as far back as the 1970s – still today, a low VOC content is a key feature of every sustainable paint or varnish. We also removed any ingredients that were damaging to the environment or human health from our formulas at a very early stage – meaning heavy metals, carcinogens and other toxic substances. Today, most of our paints and varnishes are also free from synthetic nanomaterials and plasticisers. Whilst the focus in the early days was mainly on environmental topics in the narrower sense, a more all-encompassing approach has come to the fore in the past 10 to 15 years, one that is less focused on the product itself and more on the entire lifecycle – from the raw materials, manufacture and use right through to degradation products.
On the subject of lifecycles – the circular economy certification "Cradle to Cradle" plays an important role for ADLER. Why is that?
Putting it bluntly, environmental and sustainability certificates are ten a penny nowadays, and most of them make very similar requirements of products. "Cradle to Cradle" goes a step further and examines the entire product lifecycle. The aspiration of "Cradle to Cradle" is that the product in question will go back into the circular economy at the end of its lifecycle. Waste is not seen as rubbish but as a valuable resource – we were fascinated by this idea.
Can you tell us something about the process of creating a new sustainable coating?
It will be different from case to case. Sometimes we work on an existing formula to make it more sustainable, by replacing raw materials obtained from fossils fuels with renewable raw materials. Sometimes we are implementing a specific set of requirements that have come from a customer. Other products, by contrast, are developed completely from scratch – for example, our new sustainable furniture varnish Bluefin Terra-Diamond. In this case, our task is to select the most appropriate ingredients from a large pool of raw materials and to develop the perfect formula, one that will meet our expectations in every respect – ultimately the coating not "only" needs to be sustainable, but also needs to meet our standards in terms of quality of application, durability, look and feel.
As well as raw materials, energy efficiency also plays an important role for a sustainable coating. To what extent?
You need to consider energy usage across the whole product lifecycle: How much energy is used for the manufacture of the raw materials? How much is used for the production of the coating, and for transportation? Here at ADLER, the electricity we use comes exclusively from renewable sources and we are constantly optimising our energy efficiency – we have set ourselves the goal of reducing our overall energy consumption by 5 % by the year 2025, despite increasing production quantities. A further important aspect is ultimately the amount of energy used by our customers – when they are applying the coating, during drying and during sanding. Every kilowatt of electricity that can be saved in these processes pays off twice: firstly in terms of ecological balance and secondly in the customer's wallet. A classic win-win situation – I run my business sustainably and at the same time I save money on energy costs.
Let's talk about the customer: how is the market for sustainable products developing?
For many years now, there has been an upwards trend in this respect, but still at a relatively low level. In our sustainability strategy, we have formulated a goal: our aim is that, by 2025, 20% of our overall sales turnover will come from sustainable products – and I am sure we can achieve this. On the one hand, there are more and more end-customers who are looking for environmentally friendly, sustainable and even vegan products, and not only when shopping for food or clothing but also when fitting out and decorating their homes. On the other hand, companies that use our products are increasingly coming to the realisation that they can themselves benefit from using sustainable products – they can make working procedures in their own companies healthier and safer, they can reduce waste and lower their emissions, and their energy consumption will go down. Furthermore, with the right products, they they will be well equipped at an early stage for stricter statutory regulations, and they will be working with good quality products. And finally, it's also a question of attitude: we all know that we have to share responsibility for the climate and the environment – we should act on this responsibility in our professional lives too.
As has always been the case, some people have reservations when it comes to the quality of environmentally friendly products. Are these reservations justified?
Of course there have been certain "teething problems" in the development of environmentally friendly products, but these are now very much in the past. Nowadays, there is no need for any compromise in terms of quality or ease of use when you choose sustainable products – the coatings are now just as good as conventional products. In fact, users sometimes even have significant advantages because sustainable products have been optimised in terms of waste and emissions, and are often especially efficient in use.
ADLER recently introduced a "green" range. What is so special about this range?
In the meantime, we are now able to offer our customers sustainable coatings solutions for all areas of application – from window and furniture coatings and wood preservatives to products for DIY enthusiasts. Figuratively speaking, every surface in a home can be coated with a sustainable ADLER product. We have brought together all these products to create our "green" range. In addition to this, every single product in the range has been subjected to an intensive process of internal certification according to objective criteria that easily stand up to comparison with those used by the established eco-labels. Only products that meet the highest standards in the categories of environment, health & safety and lifespan are accepted into the "green" range. Every "green" product has its own sustainability data sheet in which the results of this certification process are documented in a transparent way. This means that our customers are getting quality that has been thoroughly tested – something they are used to with ADLER – in environmental terms too.
What developments are you expecting in the area of sustainable coatings in the next few years?
I am reckoning with quite a number of exciting new developments in the area of raw materials, not only with regard to sustainability – the focus here is on renewable raw materials – but also in terms of functionality. A second key theme is energy – here too, I still see a lot of potential. It will also become more and more important that the individual sectors work closely together. In the past, many of ADLER's important innovations have arisen as a result of joint projects with customers, with manufacturers of raw materials or plant and equipment, and of course with academic and scientific institutions. Innovation workshops such as these will become increasingly important in the future.