Support Is Our Success!
High-quality products + competent advice = perfect surfaces: this is ADLER's formula for success. A new assistance system for even faster customer service: ADLER eXpert-view guarantees perfect personal advice via an innovative digital system.
15 Dec 2020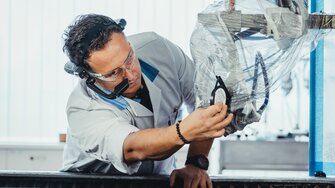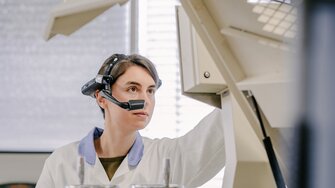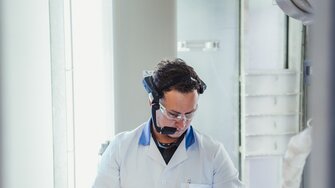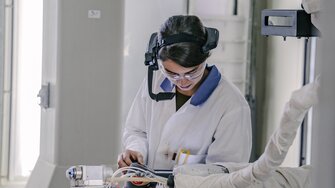 Rapid assistance
The setting of a painting robot, a special coating structure or a question about spray nozzle adjustment: ADLER technicians are always on hand to answer questions like these. With competent help and a holistic approach, they support customers on site on their way to the perfect surface. If technical problems occur at the customer's premises, quick help is usually required. However, it is not always possible for an ADLER technician to be on site quickly and personally. ADLER's innovative ADLER eXpert-view live assistance system provides a remedy in such cases: the field representative or customer on site connects via live video link to the specialist at ADLER and thus obtains the support needed to solve the problem. All that is required is data glasses or, even simpler, a smartphone app.
Innovative support
The test phase of ADLER eXpert-view has been successful, for example, an automatic spraying machine was put into operation via video assistance or an excimer system was run in. ADLER eXpert-view has proven itself particularly well in the past weeks of the corona crisis. "Especially in such an exceptional situation, a powerful digital consulting system is worth a lot - with ADLEReXpert-view, we can guarantee fast and competent service even without direct personal contact," explains Matthias Stötzel, who heads the technical service in the windows, timber construction and preservation of structures sector at ADLER. But Stötzel also has high expectations for the new system for the future: "I am sure that ADLER eXpert-view will change our customer support in a similar way as mobile phones or e-mail changed our communication. In the past, the journey to our international customers often took two days. With ADLER eXpert-view we now only need a few hours to solve a technical problem. And the time that we gain in this way benefits our customers in turn!"
ADLER – paint runs through our veins
With 620 employees, ADLER is Austria's leading manufacturer of varnishes, paints and wood preservatives. Founded in 1934 by Johann Berghofer, the family business is now managed in its third generation by Andrea Berghofer. 18,000 tonnes of paint leave the Schwaz plant every year and go to customers in more than 25 countries worldwide. ADLER has sales companies in Germany, Italy, Poland, the Netherlands, Switzerland, the Czech Republic, and Slovakia; the only production site is the ADLER-Werk Lackfabrik in Schwaz / Tyrol (A). ADLER is the first company in its industry to be 100% climate-neutral since 2018.