One filler, lots of benefits: Aduro Ecofill Smart by ADLER
It's often the little things that make our everyday lives easier: for example, finding the right filler that will allow us to apply a powerful coat of coloured paint or varnish even faster, more easily and with perfect results.
13 Oct 2021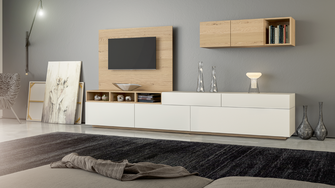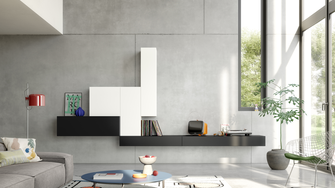 It has always been one of ADLER's top priorities to make the work of the painter or decorator easier – that's why Austria's leading manufacturer of paints, varnishes and wood preservers developed this filler in particular. A product that scores top marks with lots of advantages! Aduro Ecofill Smart is the name of the latest stroke of genius from our paints and varnishes laboratory – and it's just as smart as its name suggests.
Universal
This two-component, solvent-based spray filler has an impressive insulating effect and gives you excellent coverage. It can be applied directly onto MDF and is ready to be painted over after only a few hours. This filler is particularly pleasant to work with: "Aduro Ecofill Smart is very easy to sand, either by hand or using a sanding machine. And it creates very little dust during sanding," emphasises Mario Bortolotti, Head of Development for Furniture Varnishes at ADLER. A special highlight in terms of user-friendliness is the fact that the product is completely free of titanium dioxide!
Coloured filler
Whether you prefer an elegant white, a rich red or a magnificent blue: with Aduro Ecofill Smart, you can achieve surfaces that are highly opaque with an excellent filling performance. This filler is not only available in black and white but also comes as standard in five selected basic colours. This gives you an even more intense opaque surface when you paint over it with your chosen mass colour. A further advantage that end customers will appreciate in particular: small areas of surface damage in the topcoat are less noticeable. Smart painters can now make their work easier – by reaching for ADLER's Aduro Ecofill Smart, available since October!
ADLER – paint runs through our veins
With 630 employees, ADLER is Austria's leading manufacturer of varnishes, paints and wood preservatives. Founded in 1934 by Johann Berghofer, this family business is now managed by a member of the third generation, Andrea Berghofer. Every year, 21,000 tonnes of paint leave the Schwaz plant and are delivered to customers in more than 30 countries worldwide. ADLER has sales subsidiaries in Germany, Italy, Poland, the Netherlands, Switzerland, the Czech Republic and Slovakia; their sole production site is the ADLER-Werk Lackfabrik in Schwaz, Tyrol (Austria). ADLER was one of the first companies in its sector to be 100% climate-neutral (since 2018). The company has been able to reduce its carbon footprint to a minimum through a wide range of measures. ADLER offsets any unavoidable residual emissions through the purchase of recognised climate protection certificates, thereby helping to finance new climate protection projects.