Noble shine: the new ADLER real-metal coatings
Effectively designed surfaces are in fashion. After already attracting attention with spectacular leather, concrete, iron and rust looks, ADLER, Austria's leading paint manufacturer, is now offering a whole range of real metal coatings: extraordinary effects in copper, brass, bronze and tin.
18 Apr 2017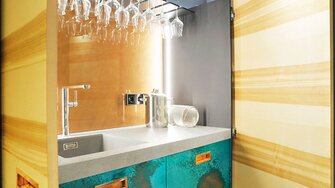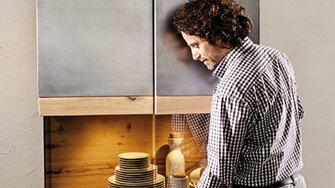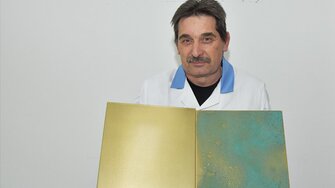 ADLER paints stand for uncompromising quality: stable protection, efficient applicability, and a perfect look and feel. That is why ADLER is also counting on pure metal for the new effects: the Aqua-Pure-Metal base is stirred with Aqua-Pur-Härter and the metal powder, ADLER Aquafix, in copper, brass, bronze or tin and is ready to process straight away.
MULTIPLE EFFECTS ...
Authentic sheen and unlimited design scope: these are the strengths of the "liquid metal" from ADLER. Because depending on which substrate, with which technique, which type of sanding and which finish the real metal paint is applied, different effects are created: textured or smooth, metallically gleaming or antique matt, pure or with a patina. Every surface thus becomes a unique work of art. The selection begins with the substrate: ideal for using the real metal effect are MDF boards or chipboards that have been coated with priming film or filled. The coating also gives brushed spruce wood a unique look, however: the characteristic wood texture is not only preserved but is further emphasised by sanding – and that is combined with a warm, metallic sheen. There is also a variety of options when it comes to processing, however: the
real metal coating can be sprayed, painted, rollered or smoothed to create various textured surfaces.
... WITH A CERTAIN SOMETHING
The real metal coating is given a special dash of colour by the patina-effect: with the oxidation solution,
ADLER Aquafix Blue-Patina – applied over the whole area or selectively with the spray bottle –an expressive blue-green patina can be created. This gives the real metal look the final kick and provides trendy accents in the surface design.