Legno oils from ADLER bring nature into the living room
Whether at furnishing fairs or in the latest collections of furniture manufacturers, the trend towards natural surfaces continues unabated. Furniture and windows, floors and stairs made of wood bring nature into the home and provide a warm, friendly living feeling. Oiled surfaces, which enable the natural material to show off its strengths especially well, are particularly in demand at the moment. High-quality oils provide a soft, velvety feel and underline the characterful look of the wood through their accentuation. ADLER has good news for all fans of oiled surfaces: ADLER's Legno range, which has been further developed and supplemented with new products, offers the perfect oil or wax for every purpose and leaves nothing to be desired.
28 Jan 2021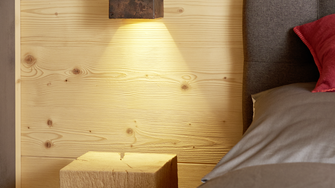 The best of both worlds
Oiled surfaces are often considered to be less resistant to chemical and mechanical stress. But this does not apply to the new ADLER Legno Dura-Öl. The high-quality oil offers the best of both worlds: it combines the natural look and feel of an oiled surface with the resistance of a varnish. With Legno Dura-Öl, you can even venture into areas where other oils are no match: in kitchens, on worktops, interior doors and even floors or stairs. In addition, it performs well with its great ease of application as the oil can be applied manually by brushing, rolling or even spraying. Wiping off the oil is not necessary, just two applications with a light smooth grinding in between are all that's required. This saves time and ensures an efficient process.
Gentle and pure like nature
ADLER Legno Aqua-Öl: The new eco-star in the Legno family. The first water-based oil in ADLER's range is produced on the basis of renewable raw materials and has been awarded the "Cradle to Cradle" sustainability certificate. This means that the oil not only ensures a healthy indoor climate, but also has a clear environmental conscience. Thanks to its water-based recipe, Legno Aqua-Öl hardly accentuates the grain and is extremely low-odour. This makes it ideal for interior furniture finishing, wall panelling and other interior surfaces that are subject to little stress.
Oils for all situations
But the Legno range from Austria's leading paint manufacturer has much more to offer: For example, the tried-and-tested Legno-Öl, which impresses with its particularly fast drying properties; the colourful Legno-Color for colourful accents; or the Legno-Zirbenöl with its unique Swiss pine scent. In addition, there are the matching professional accessories for application and grinding as well as high-quality care and cleaning products – so that even after years, the oiled surfaces still look noble and natural as if fresh from the forest.
ADLER – paint runs through our veins
With 620 employees, ADLER is Austria's leading manufacturer of varnishes, paints and wood preservatives. Founded in 1934 by Johann Berghofer, the family business is now managed in its third generation by Andrea Berghofer. 18,000 tonnes of paint leave the Schwaz plant every year and go to customers in more than 25 countries worldwide. ADLER has sales companies in Germany, Italy, Poland, the Netherlands, Switzerland, the Czech Republic, and Slovakia; the only production site is the ADLER-Werk Lackfabrik in Schwaz / Tyrol (A). ADLER is the first company in its industry to be 100% climate-neutral since 2018.