ADLER Clean Hand Disinfectant
Desinfektionsmittel Hand
Alcohol-based hand disinfectant according to WHO formula for professional and non-professional users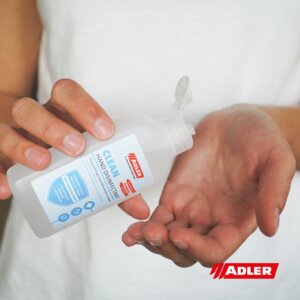 Alcohol-based hand disinfectant according to WHO formula for professional and non-professional users
Article number:806600021018
Alcoholic, ready-to-use hygienic hand disinfectant with bactericidal, levurocidal (yeast fungi) and limited virucidal (enveloped viruses) effect according to WHO formula. The product acts quickly and is relubricating.
Note on the smell:
ADLER uses only bio-ethanol for the production of its disinfectants. While synthetic ethanol is produced on the basis of fossil raw materials (crude oil), bio-ethanol is obtained by fermentation of biomass. A characteristic of this sustainable ethanol is that the smell can vary depending on the natural raw materials used. This can sometimes be perceived as unpleasant. In any case, the effectiveness of ADLER Clean Hand Disinfectant is not affected by this.
Basis of the system
Hazard warnings
Danger

H225

Highly flammable liquid and vapour

H319

Causes serious eye irritation

P102

Keep out of reach of children.

P210

Keep away from heat, hot surfaces, sparks, open flames and other ignition sources. No smoking.

P233

Keep container tightly closed.

P501

Dispose of contents/container to ...