Solvent-based, conform to the Decopaint Directive, opaque 2-component polyurethane insulating filler for furniture and interior finishing for industrial and professional use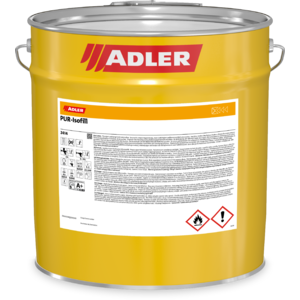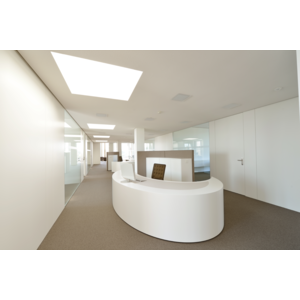 Solvent-based, conform to the Decopaint Directive, opaque 2-component polyurethane insulating filler for furniture and interior finishing for industrial and professional use
Article number:2550604
Yield: approx. 150 – 200 g/m² per application;
total application quantity max. 750 g/m²
Application method:
Solvent-based, conform to the Decopaint directive, opaque 2-component polyurethane insulating filler based on acrylic resin, free from aromatic hydrocarbons, with quick drying, high filling power and excellent grindability. The product is characterised by its good firmness on vertical surfaces and excellent permanent elasticity. It can be applied directly on high-class MDF.
Basis of the system
Advantages of the product
ÖNORM A 1605-12 (Furniture surfaces)Flame treatment: 5-B (highly non-flammable furniture surfaces)
ÖNORM A 3800-1 (Fire behaviour) in conjunction with a flameretardantsubstrate and topcoat:highly non-combustible or flame-retardant (formerly B 1 in accordance with B 3800 -1), Q1, Tr 1
The content of COV of the ready to use ADLER PUR-Isofill is below 500 g solvents/litre and is conform to the Austrian Solvent Decree (Österreichische Lösemittelverordnung 2005 - BGBl. II 398/2005, 06/12/2005) resp. the German Deutsche ChemVOCFarbV (BGBl. I S. 3508 / BgBl. I S. 2194) and therefore to the Directive 2004/42/EG (Decopaint-Richtlinie).
French Ordinance DEVL1104875A regarding the labelling of construction coating products with respect to their emission of volatile pollutants: A+
Special features
Free of aromatic compounds
Quick drying
Recoatable with water and solvent-based wood paints
Hazard warnings
Danger

EUH066

Repeated exposure may cause skin dryness or cracking.

EUH208

Contains (name of sensitising substance). May produce an allergic reaction.

H225

Highly flammable liquid and vapour

H319

Causes serious eye irritation

H336

May cause drowsiness or dizziness

P210

Keep away from heat, hot surfaces, sparks, open flames and other ignition sources. No smoking.

P261

Avoid breathing dust/fume/gas/mist/vapours/spray.

P312

Call a POISON CENTRE/doctor/… if you feel unwell.

P501

Dispose of contents/container to ...
Area of application
Full-bodied primer coating for opaque pigment paint structures in furniture and interior furnishing

It is also suitable for profiled work-piece shapes and battens on account of its good staying power

for highly non-flammable or flame-retardant structures
Mix
10 parts PUR-Isofill

1 parts hardener

If you want faster drying, you can work with the following mixing
ratio as an alternative to the hardener mentioned above:
5 parts by weight of ADLER PUR-Isofill Weiß/White 25506
1 part by weight of ADLER PUR-Härter (Hardener) S 82040
or
4 parts by volume of ADLER PUR-Isofill Weiß 25506
1 part by volume of ADLER PUR-Härter (Hardener) S 82040

pot life:8 hours