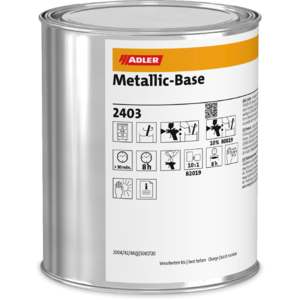 Article number:2583411
Yield: About 100-120 g/m² per application
Application method:
High-quality polyurethan-metallic paint for furniture. Very good chemical and mechanical resistance, excellent light fastness. Basis of binding agent: resin of polyacrylat/celluloseacetobutyrat.

For achieving different tints you can mix ADLER Metallic Base 25834 with up to 10% ADLER Pigmopur 24005ff.
Basis of the system
Advantages of the product
Very good chemical and mechanical resistance
excellent light fastness
Special features
Area of application
For the production of high-quality pigment paint structures with a metallic effect for furniture and the entire interior outfitting including the kitchen and sanitary areas: Fields of Use with an appropriate top coat (f. e. ADLER Pigmotop 25363 ff) II – IV in accordance with ÖNORM A 1610-12.
Mix
10 parts Metallic-Base

1 parts hardener

10 parts by weight of ADLER Metallic-Base 25834 1 part by weight or volume ADLER PUR-Härter [hardener] 82019

pot life:8