Pullex Renovier-Grund
Beige
/

2.5 l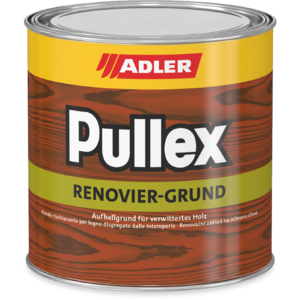 Solvent-based, equalizing wood impregnation for DIY and professional use
Article number:5023602
Application method:
Attention: use wood preservatives safely. Always read the label and product information before use.
​Opaque, pigmented wood preservative impregnation for renovating highly weathered wood coatings used outdoors. In addition to impregnation, Pullex Renovier-Grund also brings
about equalisation and brightening of the wooden substrate. The 
product is low-odour as a result of white spirits free of aromatic 
hydrocarbons.
Basis of the system
Advantages of the product
Contains 0,3 % IPBC (3-iodine-2-propynylbutylcarbamate)
Special features
Biocide product
UV resistance
For non-dimensionally stable timber components
Protection against fungal decay
Protection against mold
Netto Gewicht in kg
Hazard warnings
Attention!

EUH066

Repeated exposure may cause skin dryness or cracking.

EUH208

Contains . May produce an allergic reaction.

EUH211

Warning! Hazardous respirable droplets may be formed when sprayed. Do not breathe spray or mist.

H226

Flammable liquid and vapour

H412

Harmful to aquatic life with long lasting effects
Area of application
​Refurbishment of glaze-finish and opaque wood coatings used outdoors such as, for example, wooden houses, canopies, timbering, balconies, windows, front doors, window shutters and gates in usage categories 2 and 3.