Worry-free with ADLER hardeners.
On 24 August 2023, a new EU Regulation came into force which requires companies to provide training for employees who use PUR hardeners with a diisocyanate content of more than 0.1 %. But ADLER customers don't need to worry: the Austrian coatings manufacturer has reworked its entire range of hardeners in such a way that no additional training will be required – despite retaining the same high quality and making them even easier to use!
24 Jul 2023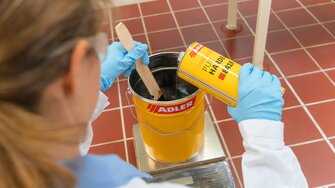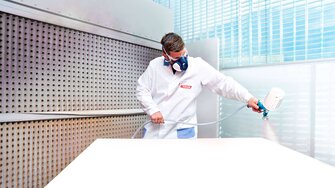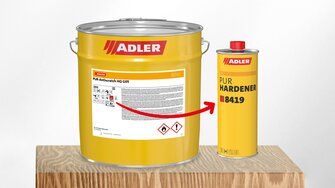 Isocyanates are chemical substances that are required for all two-component PUR paints and varnishes. It is the mixing of the paint or varnish with an isocyanate-based hardener that creates the desired high degree of surface quality. However, they contain monomers called diisocyanates which may cause irritation to the skin and the respiratory tract and may trigger allergic reactions. The EU has therefore established strict upper limits for diisocyanates and has introduced a requirement for training for all employees who are to use products that exceed these upper limits. The new rule comes into force on 24.08.2023. This will be expensive and also time-consuming: every employee will have to complete a training course lasting several hours which has to be repeated every five years. ADLER customers don't need to worry about this issue, however. All PUR hardeners for solvent-based paints and varnishes and all Aqua hardeners for ADLER's water-based paints and varnishes will in future be below the prescribed upper limit. This means that there will be no future requirement for an additional training course for employees using 2C paints and varnishes made by ADLER.
Improved health and safety
This worry-free guarantee has been made possible by a change in the recipe. "The changes we have made only concern the quantity of diisocyanate monomers in percentage terms that the hardener contains. The properties of our hardeners in terms of use and application remain unchanged," emphasises Mario Bortolotti, Head of Development for Furniture Paints and Varnishes. This means that ADLER customers will not notice any change at all; the quantity to be used also remains unchanged, as does the quality of the 2C surface. At the same time, ADLER's reworked hardeners also bring an improvement in terms of health and safety for those using them – absolutely in line with the consistent sustainability strategy of the Austrian manufacturer of paints and varnishes. And ADLER also have an extra benefit to offer their customers: their containers are now labelled with a standardised colour code – this will make it easy for customers to find the matching hardener for their paint or varnish, and the ratio for mixing can also be found on the label. This should hopefully exclude any errors in use and application – and should make everyday tasks just that bit easier for ADLER's customers!
ADLER – paint runs through our veins
With 720 employees, ADLER is Austria's leading manufacturer of varnishes, paints and wood preservatives. Founded in 1934 by Johann Berghofer, this family business is now managed by a member of the third generation, Andrea Berghofer. Every year, 21,000 tonnes of paint leave the Schwaz plant and are delivered to customers in more than 30 countries worldwide. ADLER has sales subsidiaries in Germany, Italy, Poland, the Netherlands, Switzerland, the Czech Republic and Slovakia; their sole production site is the ADLER-Werk Lackfabrik in Schwaz, Tyrol (Austria). ADLER was one of the first companies in its sector to be 100% climate-neutral (since 2018). The company has been able to reduce its carbon footprint to a minimum through a wide range of measures. ADLER offsets any unavoidable residual emissions through the purchase of recognised climate protection certificates, thereby helping to finance new climate protection projects