The pursuit of the perfect wood surface unites HASSLACHER NORICA TIMBER and ADLER
As an innovative, internationally active, family-run timber industry company, the HASSLACHER Group is the world market leader in glulam and has stood for pioneering spirit, performance, quality, longevity and social responsibility for 120 years. Together with its 1,800 employees, the HASSLACHER Group produces innovative products in the areas of sawn timber, glulam, cross-laminated timber and solid structural timber for modern timber construction at eight locations in Austria, Germany, Slovenia and Russia. True to the motto "From wood to wonders"
9 Mar 2021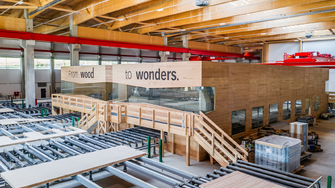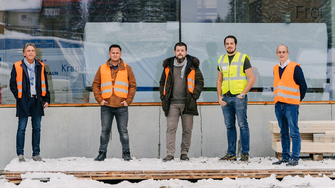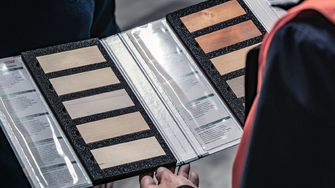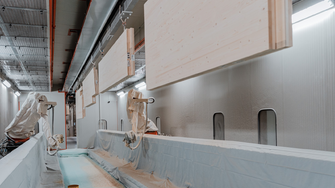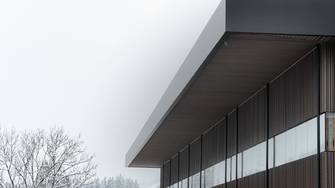 Gigantic: large-scale, extremely heavy wooden elements of up to 3.20 m in width and an incredible 20 m in length float upright through the huge hall. Two robotic arms spray the plates with a fine laser mist. Precisely accurate. A breath of warm air allows them to dry quickly before the intermediate grinding station prepares the components to pass through the paint booth once again. There is a justifiable sense of great pride in the voice of Plant Manager Andreas Weichsler when he leads trade visitors through "his" realm and explains: "A plant of this dimension has no parallel anywhere in the world. We have carried out pioneering work here." We – that is the HASSLACHER Group, which has realised an incomparable surface finishing centre at the Stall site in the Carinthian Mölltal valley. And which refines wall and ceiling elements made of cross-laminated timber with healthy coatings from ADLER in such a way that they do not have to shy away from comparison high-quality furniture or parquet surfaces. "But it is still a load-bearing wooden structural element," Weichsler emphasises.
Excellent
In fact, the know-how of a coating technology from the window and furniture industry flowed into the surface finishing centre. "The whole thing was then scaled up to cross-laminated timber dimensions," explains Georg Jeitler, innovation manager in the HASSLACHER Group, as a ready-formatted and bound CLT element "flies" into the surface finishing process. Fittingly, ADLER has also specially adapted a product from the furniture sector for the HASSLACHER Group's state-of-the-art plant. Because HASSLACHER NORICA TIMBER and ADLER share a common goal: the pursuit of the perfect surface! "Our customers undertake outstanding architectural and engineering timber projects with our wooden structural elements all over the world. A first-class surface is simply part of this and is also something which is demanded by clients and architects," Weichsler and Jeitler emphasise the importance of this innovation and investment. Timber construction is booming and the natural, sustainable material should also be shown to its best advantage: glued wood products in visible quality are becoming increasingly popular. The HASSLACHER Group has always been a pioneer when it comes to surfaces. With the specially constructed "excellent lamella", the highest possible quality can be guaranteed in a wide variety of softwood and also hardwood species with virtually no joints or cracks. And in the new surface centre in Stall, the CLT elements can now be protected and designed for all requirements.
Protected
ADLER, Austria's leading manufacturer of varnishes, paints and wood preservatives, is at the HASSLACHER Group's side with advice and, above all, with action – in other words, flexible expertise – on a wide range of coating issues. "ADLER develops optimal coating solutions to meet the different requirements as well as the right products for the system for us quickly and without complications," says Weichsler, pleased with the good cooperation. For example, the new ADLER Lignovit Ecofin is used in the spray booth, a water-based clear varnish that combines the best moisture protection with particularly good chemical and mechanical resistance, i.e. protection against dirt and damage. "On a construction site, the wooden elements pass through many hands and are sometimes treated a little more roughly in the course of assembly due to their size. But they should still retain their natural beauty," explains Bernhard Schiffthaler, ADLER Key Account Manager for industrial timber construction and the window industry in Austria. With the robust and elegant cross-laminated timber Lignovit Ecofin elements from the HASSLACHER Group, the prominent construction company Implenia is currently implementing the renowned large-scale project "KIM" in the Lokstadt district of Winterthur. And Lignovit Ecofin was also used on the birch excellent surface for its own noise protection cabin, which sits enthroned in the middle of the new 10,000 m² production hall.
Glossy
Another "permanent sprayer" in the spray booth is the popular interior glaze Lignovit Interior UV 100 from ADLER. It protects wooden surfaces from long-term yellowing thanks to its built-in UV protection. However, the cross-laminated timber panels can also be provided with edge protection, cross-cut wood sealing and coloured surfaces. ADLER has developed its own surface finishing portfolio especially for and with HASSLACHER NORICA TIMBER. And speaking of colour: the façade of the new production hall in Stall also shines in an elegant, silver-grey colour. Lignovit Lasur in Naturgrau (natural grey) and Lignovit Platin in Quarzgrau (quartz grey) give the structure-planed spruce its glossy and durable look, which also blends in extremely elegantly with the Mölltal landscape. "For the coating of these prefabricated façade elements, we specially purchased a brushing machine in order to achieve optimal results in the outdoor area as well," explains Andreas Weichsler. Either way, whether for indoors or outdoors – when it comes to perfect surfaces, the HASSLACHER Group relies on ADLER!
ADLER – paint runs through our veins
With 620 employees, ADLER is Austria's leading manufacturer of varnishes, paints and wood preservatives. Founded in 1934 by Johann Berghofer, the family business is now managed in its third generation by Andrea Berghofer. 18,000 tonnes of paint leave the Schwaz plant every year and go to customers in more than 25 countries worldwide. ADLER has sales companies in Germany, Italy, Poland, the Netherlands, Switzerland, the Czech Republic, and Slovakia; the only production site is the ADLER-Werk Lackfabrik in Schwaz / Tyrol (A). ADLER is one of the first companies in its industry to be 100% climate-neutral since 2018. ADLER has been able to reduce its carbon footprint to a minimum through a wide range of measures. ADLER offsets any unavoidable residual emissions through the purchase of recognised climate protection certificates, thereby helping to finance new climate protection projects.