The eco winner from ADLER: Pullex Aqua-Terra, the wood oil made of renewable raw materials
Live greener, build greener: sustainability, ecology and harmlessness are the major issues of our time – also wherever building and renovation work is being undertaken. ADLER, the world champion of innovation from Tyrol, has reacted to this trend: with Pullex Aqua-Terra, ADLER introduces a water-based wood oil to the market, which is predominantly made of renewable raw materials: environmentally friendly, sustainable and in harmony with nature.
15 May 2017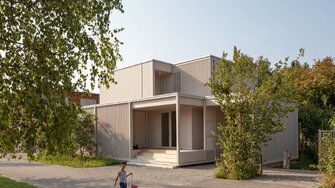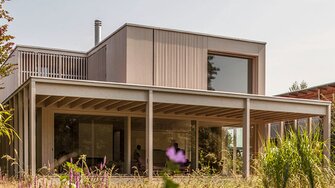 WOOD COATING WITH GREEN FINGERS
Pullex Aqua-Terra is formulated without solvents, contains neither plasticisers nor chemical wood preservatives, and consists of more than 85% of renewable raw materials. That makes the wood oil the perfect alternative for environmentally conscious people – with all the benefits of a conventional transparent wood finish: it enhances the wood surface, ensures excellent weathering resistance and is easy to apply. Furthermore, the wood oil also gets good marks for style: a calm, matt look and a velvety surface ensure an all-round natural appearance.
Pullex Aqua-Terra is also a quick-change artist: the wood oil can be tinted in all colours of the ADLER Color4You spectrum – as colourful as nature itself. "We wanted to offer our customers a product that is not only environmentally friendly, but also provides top quality in its application – as one has come to expect from ADLER," says Rainer Troppmair from the ADLER laboratory. "We have managed to achieve that with Pullex Aqua-Terra: an ecological wood oil at the highest level".
HEALTHY VARIETY OF COLOUR FOR EVERYONE
Pullex Aqua-Terra is the perfect solution wherever consideration for nature and health is particularly important: for playgrounds and garden furniture, apiaries and kennels, but also for balconies or wood panelling in the living area.
A particular plus point: the wood oil fulfils the stringent ecological housing subsidy criteria such as baubook, the database for ecological construction. "More and more customers not only pay attention to price and quality when it comes to building and renovating, but also to the environmental compatibility of the products used," says ADLER Sales Manager, Alexander Ringler. "With Pullex Aqua-Terra we are able to provide them with a wood oil that gives them everything in one product." A natural look and healthy indoor climate, ultimate weathering resistance with a clean conscience towards the environment: that is the wood finish of the future for environmentally conscious professionals and DIY enthusiasts.
Newsletter Sign up
With the ADLER Newsletter you are always well informed. You will receive useful information and news from our company at regular intervals.
Sign up here for our Newsletter