Tailor-made automation: New automatic spraying machine in the ADLER application technology
After weeks of intensive planning, a new VEN SPRAY PERFECT automatic spraying machine was recently installed in the application technology department of the Austrian paint manufacturer ADLER. With this modern coating system, ADLER is further expanding its customer service and consulting competence in the field of automated surface coating.
16 Apr 2020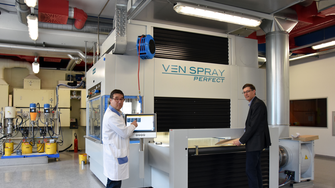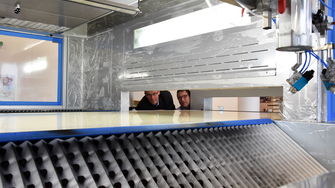 Efficient
The latest achievement in ADLER application technology for the furniture sector is equipped with the latest professional spraying technology from Airless, Airless air-supported to air-atomising automatic spray guns. This makes it possible to save both energy and coating material. A perfect air balance during painting also leads to very high-quality surfaces. Dr. Albert Rössler, Managing Director Research & Development at ADLER, explains: "Particularly in times of strict environmental regulations and a lack of skilled workers, such systems offer a lot of potential for industries and large joineries, so that painting can continue to be an attractive field of activity". The new automatic spraying machine in ADLER's application technology department makes it possible to provide customers with comprehensive support when introducing such a system.
Environmentally friendly
For Reinhard Huber, who closely accompanied the furniture application technology project for months, the system is also characterised by an innovative paint quantity micro-supply system with three colour circuits, which means that only 2 kg of paint material is required instead of the previous 8 kg. Customers also benefit from this when it comes to the familiar "batch size 1" issue. In addition, a mechanical paint recovery system can be activated depending on the spray material used. This not only protects the environment, but also saves resources and time. "This major investment is a valuable enrichment of our competence centre: It is completely in line with our conviction 'Clean work - clean environment' and enables us to optimally test and optimise production processes under real conditions - fully in the interest of our customers", emphasises Dr. Rössler.
ADLER – paint runs through our veins
With 620 employees, ADLER is Austria's leading manufacturer of varnishes, paints and wood preservatives. Founded in 1934 by Johann Berghofer, the family business is now managed in its third generation by Andrea Berghofer. 18,000 tonnes of paint leave the Schwaz plant every year and go to customers in more than 25 countries worldwide. ADLER has sales companies in Germany, Italy, Poland, the Netherlands, Switzerland, the Czech Republic, and Slovakia; the only production site is the ADLER-Werk Lackfabrik in Schwaz / Tyrol (A). ADLER is one of the first companies in its industry to be 100% climate-neutral since 2018. ADLER has been able to reduce its carbon footprint to a minimum through a wide range of measures. ADLER offsets any unavoidable residual emissions through the purchase of recognised climate protection certificates, thereby helping to finance new climate protection projects.