Schreinerei Burkart is committed to colour
"Create values, make a home" – that's the motto of traditional carpentry workshop Schreinerei Burkart, which can be found in Bad Kohlgrub in Upper Bavaria. And that's why this manufacturer of high-quality furniture and doors aims to play an active role in shaping the future – and has switched over to water-based paints and varnishes by ADLER!
8 Aug 2023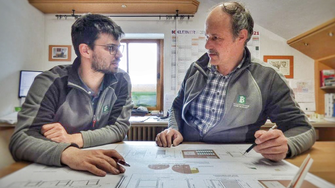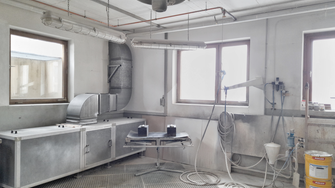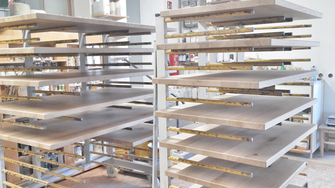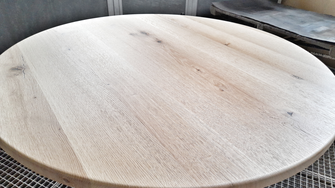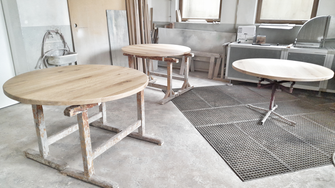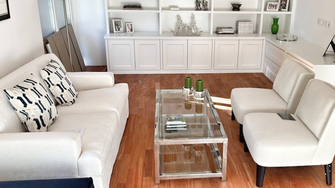 For their 70th birthday, coming up this year, Schreinerei Burkart are giving themselves the best possible birthday present: in August of last year, Josef Burkart and his son Anton launched a project that had been in the planning for a long time – a changeover to water-based paints and varnishes. "We'd been thinking about doing this for a long time. But it used to be the case that the products available simply didn't meet our quality standards. We had some serious reservations, in particular regarding the resistance to solvent-based cleaning agents of the resulting surfaces," explains Josef Burkart, who has now taken over the company – which was founded in 1953 – from his parents. He continued to keep a close eye on developments – and last summer he was finally convinced the time was right! At the same time, however, one thing had become clear to him: "If we're going to make the change, then we'll do it with ADLER!" After all, as a pioneer in the field of water-based coatings right from the start, Austria's leading manufacturer of paints and varnishes has the required expertise and experience and the advanced technology needed to ensure the success of such a key project: fast, simple and straightforward. Just as it is with the application of ADLER's water-based coatings!
Fast
A quick call to their ADLER field sales representative, Dieter Limberger, and the wheels of the ADLER water-based coatings express train were set in motion: just a few days later, Mario Menghin, ADLER's training and support expert, was standing there at the door of their workshop, having made a special trip from Schwaz, which is not too far away, with a tin of Bluefin Pigmores 4in1 in his luggage. This water-based pigment paint is pretty much an all-round solution where top-class coloured coatings are called for – which is often the case for Burkart, especially with black and white: "These classic colours have a timeless elegance and therefore fit in perfectly with our credo in regard to quality – after all, we want our customers to enjoy their high-quality items of furniture for many years to come," Josef Burkart underlines. A number of test coatings and test runs later, and any issues preventing them from achieving the perfect water-based painted surface had been resolved – and you could see the surprise on the faces of Burkart's team: no laborious modifications to their plant and equipment, no time-consuming technical changes in the painting room – the changeover was realised quickly and seamlessly. "And because we were so happy with the way things went, it wasn't long before we switched over to 100% water-based ADLER products for our varnishes too," the master carpenter tells us.
Clean
There were several criteria that were decisive in securing this positive response: "On the one hand, of course, the concept of sustainability plays a key role for us – the changeover means we can reduce our emissions of solvents and our carbon footprint significantly and therefore help to protect the environment. Other important factors are the pleasant working conditions created, the fact that tools and equipment can be cleaned easily with water and a more straightforward procedure for the disposal of waste materials. A further point in favour of a complete switch was the fact that we would be able to keep our stocks at a lower level, thereby saving space. And finally, the resulting surface quality is simply outstanding!" explain junior and senior CEOs Anton and Josef, listing all the benefits.
Beautiful
Schreinerei Burkart attaches particular importance to achieving an attractive finished surface. "Absolutely right – it's the last step in the manufacture of a piece of furniture and therefore plays a decisive role in creating the overall impression. It can have a very positive effect, but can also achieve quite the opposite," Josef Burkart strongly believes. Although coating with Bluefin Pigmores 4in1 is actually sufficient in many cases, the team go one step further with any surfaces that need to withstand particularly heavy wear by finishing them off with an additional coat of clear varnish. In this case, they use Bluefin Top-Antiscratch by ADLER. Their customers appreciate the exceptional durability and thus long-term value of their items of furniture – as well as the environmentally friendly methods used in their manufacture: "We are proactive in telling them that we use water-based paints and varnishes and this brings us a lot of positive feedback," reports Anton Burkart. He is also quite sure that the look achieved with ADLER's clear varnishes – less grain accentuation and thus an especially natural appearance that looks almost as if the wood is untreated – is absolutely in keeping with current trends. And if they want to have more colour in the wood, the Burkart team can choose from the wide selection of colours in ADLER's range of wood stains.
Certain
The master carpenters in this 10-person business were also impressed by ADLER's new Bluefin Unistar, which can also be used as a single-component product. "To be quite honest – it's like a dream!" says Josef Burkart, praising the fact that ADLER's products are so easy to use, while also being extremely durable. Using these water-based paints and varnishes is in fact bringing a lot of positives in general for the whole team and for those responsible applying the coatings: "Of course there are a couple of things that we have to pay attention to – we need to be a little more careful with sanding, and we need to ensure good ventilation and make sure that surfaces are free from dust," Burkart sums up. But if there are any questions, he simply picks up his phone – both Limberger and Menghin are available at all times and happy to provide advice and support. Making the decision to switch to water-based products has "definitely paid off" for Schreinerei Burkart – in particular because, in the course of the Covid-19 crisis, the energy crisis and the Ukraine War, the price for water-based paints and varnishes has moved closer to that of solvent-based products. Or rather – as ADLER promises – they are in fact now cheaper for the customer due to the smaller quantity of coating material that is needed.
ADLER – paint runs through our veins
With 720 employees, ADLER is Austria's leading manufacturer of varnishes, paints and wood preservatives. Founded in 1934 by Johann Berghofer, this family business is now managed by a member of the third generation, Andrea Berghofer. Every year, 21,000 tonnes of paint leave the Schwaz plant and are delivered to customers in more than 30 countries worldwide. ADLER has sales subsidiaries in Germany, Italy, Poland, the Netherlands, Switzerland, the Czech Republic and Slovakia; their sole production site is the ADLER-Werk Lackfabrik in Schwaz, Tyrol (Austria). ADLER was one of the first companies in its sector to be 100% climate-neutral (since 2018). The company has been able to reduce its carbon footprint to a minimum through a wide range of measures. ADLER offsets any unavoidable residual emissions through the purchase of recognised climate protection certificates, thereby helping to finance new climate protection projects