Paints and varnishes for a sustainable future
Cradle to Cradle is considered to be the gold standard of sustainability certifications – and ADLER is the first manufacturer of paints and varnishes across the whole of Europe to be awarded this certification. There are now 16 coatings in the ADLER range that carry this coveted sustainability seal – including the new all-rounder in their water-based coatings range, Bluefin Unistar, and high-end wooden window frame coating Aquawood Diamond.
1 Sept 2022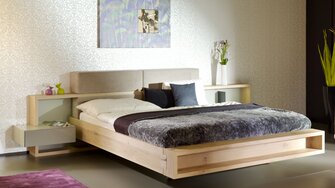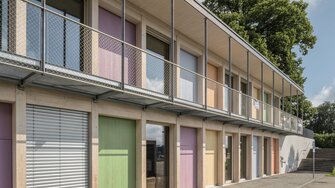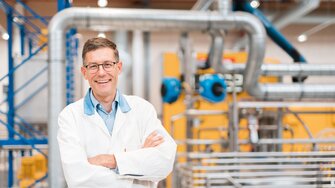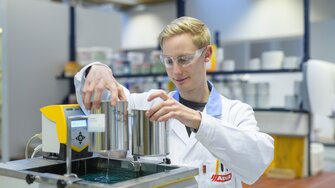 Waste equals nutrients
Cradle to Cradle brings the philosophy of a sustainable circular economy into the world of products. The concept behind it is that there is no waste, only nutrients. When the lifespan of a product comes to an end, it doesn't get disposed of but is instead brought back into the circular economy: through recycling or biological treatment, its resources are retained and become the raw materials for something new. For this idea of a circular flow to become a reality, we need products that are perfectly tailored to it. Products such as ADLER's paints and varnishes – from furniture paints & varnishes and window frame coatings through to wall paints and wood protection glazes.
Stringent requirements
A paint, varnish or wood protection product has to go through a long process before it achieves "Cradle to Cradle" certification, and there are countless requirements that need to be fulfilled along the way. These include an environmentally friendly manufacturing process with energy from renewable sources, such as wind or hydropower. In addition to this, Cradle to Cradle products must be made with a high percentage of renewable raw materials. "There is a lot of potential here in binding agents for paints and varnishes that are made from biomass rather than crude oil," explains Dr Albert Rössler, Head of Research & Development at ADLER. These are used, for example, in the fully sustainable furniture varnish Bluefin Terra-Diamond which is manufactured from 85% natural raw materials. Similarly high figures are also achieved with the eco-friendly wood oil Pullex Aqua-Terra, which can be used for indoor and outdoor areas.
Circular flow of wood
Of course the idea of a circular flow also plays a key role. After all, ADLER specialises in the coating of wood, a material that is pretty much predestined for the circular economy. "We use the phrase cascade utilisation in this context," explains Dr Rössler: the tree trunk is made into boards or beams, from which facades, window frames or furniture are then manufactured. Once these construction components come to the end of their lifespan, the wood can be reprocessed in a subsequent step to make fibreboard or chipboard, instead of being sent for thermal energy recovery. "It is our aim that wood that has been coated with our products will be suitable for such cascade utilisation. In the longer term, we are even working towards a situation whereby our coating will have a valuable role to play in the recycling process – in keeping with the idea that waste becomes a valuable raw material.
Sustainable range for all areas
Today, ADLER has a complete range of certified coatings for any area of application related to the home: the wood used for the facade is protected with Pullex Aqua-Terra, the living spaces are decorated with the wall paint Aviva Terra-Naturweiß, and Legno Aqua-Öl is used for the wood panelling. The wooden window frames are coated with Aquawood Natureffekt, and the exterior doors with Aquawood Protor. And for those little DIY jobs, the all-purpose paint Varicolor is the ideal choice. In addition to this, ADLER's R&D department are busy experimenting with numerous other products that will fulfil all the prerequisites for Cradle to Cradle certification. Dr Albert Rössler is convinced: "The circular economy will play a key role in the future. Sustainability isn't just about protecting the environment and the climate. We also need to focus on finding efficient ways of dealing with resources – we want to make a contribution in this area with the products we manufacture at ADLER."
ADLER – paint runs through our veins
With 670 employees, ADLER is Austria's leading manufacturer of varnishes, paints and wood preservatives. Founded in 1934 by Johann Berghofer, this family business is now managed by a member of the third generation, Andrea Berghofer. Every year, 22,000 tonnes of paint leave the Schwaz plant and are delivered to customers in more than 30 countries worldwide. ADLER has sales subsidiaries in Germany, Italy, Poland, the Netherlands, Switzerland, the Czech Republic and Slovakia; their sole production site is the ADLER-Werk Lackfabrik in Schwaz, Tyrol (Austria). ADLER was one of the first companies in its sector to be 100% climate-neutral (since 2018). The company has been able to reduce its carbon footprint to a minimum through a wide range of measures. ADLER offsets any unavoidable residual emissions through the purchase of recognised climate protection certificates, thereby helping to finance new climate protection projects.