No compromises: The Bluefin Terra-Diamond sustainable furniture varnish from ADLER
Wood is key when it comes to a natural living experience. Wood looks good, feels pleasant to the touch and also has an excellent ecological balance sheet. With Bluefin Terra-Diamond from ADLER, carpenters, joiners and furniture makers no longer have to make any compromises as regards their workpieces: The water-based furniture varnish wins top marks in terms of sustainability and is distinguished at the same time by an excellent surface quality and efficient processing.
4 May 2021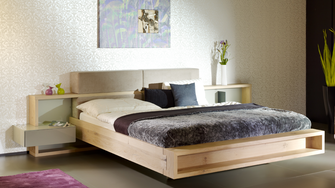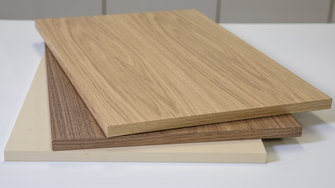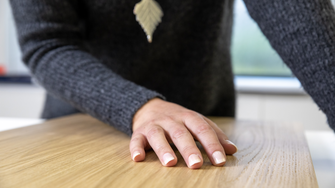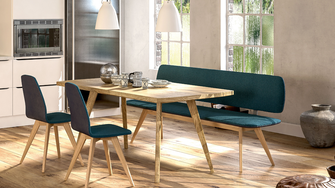 Ahead by a long way
For many years now, the development department at Austria's leading paint manufacturer has been working intensively on sustainable recipes. Here particular attention is paid to the selection of the raw materials. "Firstly, we avoid materials that are harmful to the environment and human health, such as heavy metals," explains Reinhard Huber, furniture varnish expert at ADLER's laboratory. "Secondly, we replace conventional raw materials by renewable raw materials and can thus save large amounts of petroleum, for example." These many years of development work are paying off: With a natural raw material percentage of around 85%, Bluefin Terra-Diamond is leagues ahead of conventional furniture varnishes. In addition, it has an extremely low VOC content of less than 6% and a remarkably small carbon footprint. The varnish does not contain any plasticisers, formaldehyde or heavy metals and thus ensures a healthy indoor climate free of harmful substances. This high environmental standard is also confirmed by independent certificates: the furniture varnish is Baubook-listed and surfaces coated with Bluefin Terra-Diamond also meet the criteria for the Austrian Ecolabel. Moreover, the furniture varnish is guaranteed sweat and saliva-resistant and is therefore also suitable for use on toys and in children's rooms.
No half measures
Anyone who now fears that all this naturalness means they will have to comprise on quality and efficiency is greatly mistaken. On the contrary: Bluefin Terra-Diamond is even particularly efficient in terms of processing, as it can be used in a variety of ways as a primer and topcoat and can even be applied directly to oak wood without causing discolouration. And in terms of resistance the coating is in no way inferior to conventional furniture varnishes: Bluefin Terra-Diamond has a very high mechanical and chemical resistance and can therefore be used throughout the living area – from the dining table to the bedroom, and from the wardrobe to the children's room. At the same time, the varnish provides for a pleasant, natural look and feel. Lastly, the following applies here too: At ADLER there are no half measures – Bluefin Terra-Diamond is uncompromisingly sustainable, uncompromisingly robust and uncompromisingly beautiful!