Lenz loves loudspeakers
He loves wood. And music. Bernhard Lenz has managed to combine his two passions. He is a carpenter. But he does not only make furniture. He composes furniture. That is what is says on his business card – and the work of the Styrian businessman from Bad Gleichenberg could not be described more appropriately either. Because his love applies above all to loudspeaker furniture. Lenz makes whole tree trunks ring out. He amplifies the sound from his mobile phone without any power. He turns sound bodies into a work of art.
5 Oct 2017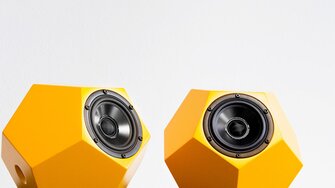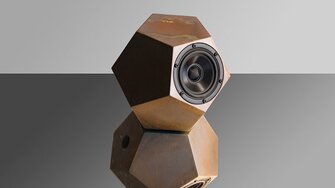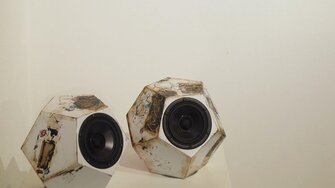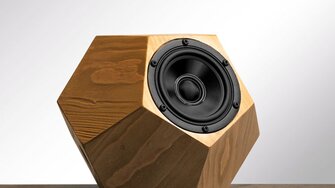 Fitting The Image
The latest addition to his "edition space" loudspeaker range is a compact little thing. Despite a diameter of just 26 centimetres, the "Space 076" guarantees the highest sound quality in stereo. The "little one" is made up of twelve pentagons. "The sound can fully expand inside this geometric shape," emphasises Lenz. The two loudspeakers fit on any desk or any chest of drawers. Or also on the wall. Because besides the sound quality, what makes them special is also the surface design: "With the artist, Michael Raimann, we made the loudspeakers to fit an image, for example," outlines Lenz. White Pigmopur-paint from ADLER was used for this purpose.
A Classic In New Clothing
Yet the sound bodies also come in bright yellow – once again coated with ADLER Pigmopur. Those who like it classic will turn to the old wood look (ADLER Legnopur on spruce). Classic can also sound from a rusty shell, however, the Space 076 pair in the "coolest" version comes in a rust effect. "For this we use Aquafix Ferro from ADLER and we are very thrilled," praises Lenz. So that the dodecahedrons also stand safely, even when the loudest sound comes out of them, they are equipped with a vibration-absorbing mat made of original Schladminger loden cloth from Steiner 1888.
As a traditional Styrian company and member of the Kornberg Designer Carpenters, the Lenz carpentry business relies on regional products and the best craftsmanship!