How I live'? Tone-on-tone! ADLER brings colour harmony between four walls - and helps planners & architects
Windows that perfectly match the façade. Doors that fit harmoniously into the room. And furnishings that are coordinated with all built-in elements down to the last detail: elegant living spaces score points with colour harmony! Architects and planners take advantage of the opportunity to skilfully coordinate colour shades to bring peace and elegance to their buildings. A consistent colour concept is already a standard design feature in public buildings today. And individual colour matching has also found its way into the private sector. But what sounds so simple often proves to be a tricky challenge in practice. Austria's leading coating manufacturer ADLER is therefore a competent partner for architects and planners in the implementation of complex colour concepts.
22 May 2020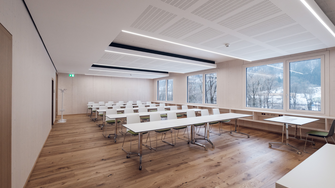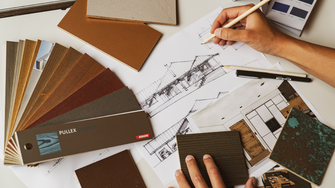 For every species of wood ...
Creating consistent colour harmony is not so easy - if, for example, the windows are made of pine, the parquet flooring is in oak and spruce is desired for the wall panelling: each species of wood has its own individual properties, each component requires different protection depending on its function. All this needs to be taken into account in the coating. Simply applying a standard paint over it is not enough! Softwood in indoor areas must be protected particularly well from discolouration. Windows and facades need the best protection. And the furniture must not only look good, but also feel good. ADLER is the perfect partner for this: the Tyrolean company is the only paint and varnish manufacturer to offer a complete product range for virtually all areas. Thanks to its many years of experience in the field of wood preservation and creative wood coating, ADLER provides architects, planners and builders with advice and support.
... the right paint
ADLER can select colour shades in its own coloristics department and match them to each other depending on requirements and the substrate. This makes it possible to achieve the same colour effect with the most diverse products and on the most diverse woods. ADLER supports planners in the selection of colours with style guides and tips on trend colours. Together with the architects, ADLER's architectural advisor Manfred Höfurthner develops the perfect coating solution for every building project. After all, colour harmony is not only required for indoor areas: "More and more often, there is a desire to match windows and wooden facades," the consulting professional reports from his everyday work.
Through thick and thin
ADLER has developed a special product for this purpose: The new window coating ADLER DSL Aquawood Carat gives wooden windows a metallically shimmering character in the most beautiful grey and brown shades, as they also prevail on wooden facades. However, while thin-layer wood preservation products such as ADLER's pre-greying glaze finish Lignovit Platin are used for facades, a thick-coat glaze finish must provide long-term, standard-compliant protection for dimensionally stable components such as windows. An example that shows: Whatever the coating - ADLER makes it possible!
ADLER – paint runs through our veins
With 620 employees, ADLER is Austria's leading manufacturer of varnishes, paints and wood preservatives. Founded in 1934 by Johann Berghofer, the family business is now managed in its third generation by Andrea Berghofer. 18,000 tonnes of paint leave the Schwaz plant every year and go to customers in more than 25 countries worldwide. ADLER has sales companies in Germany, Italy, Poland, the Netherlands, Switzerland, the Czech Republic, and Slovakia; the only production site is the ADLER-Werk Lackfabrik in Schwaz / Tyrol (A). ADLER is the first company in its industry to be 100% climate-neutral since 2018.