Here to stay
Five years since it was founded, the ADLER Benelux sales subsidiary has now become a well-established player in the Dutch market for paints and varnishes. CEO Leon Cremers has set some ambitious goals for the next five years.
27 Jul 2023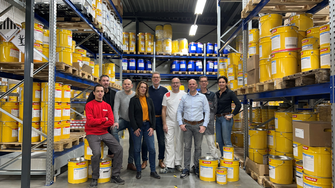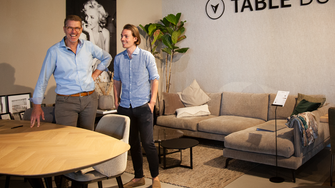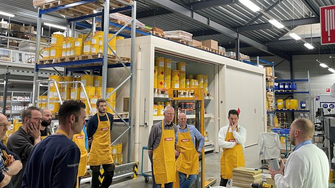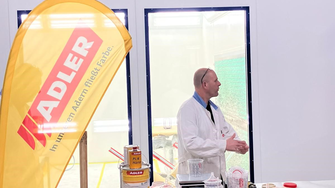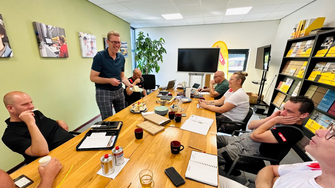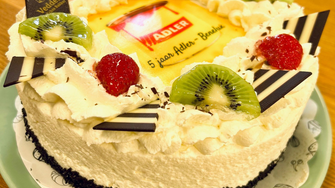 Something that started in 2018 as a "one-man show" by passionate sales expert Cremers has in the meantime grown into a diverse team of nine sales representatives and employees who are based in the Service Centre in Heeze. "In the beginning, it was of course quite a challenge raising awareness of the ADLER brand here, but the excellent quality of our products meant that we were soon able to get established," Cremers tells us. The company's wide range of innovative and environmentally friendly water-based paints and varnishes has attracted a lot of interest in the Netherlands. "Sustainability is a huge topic here and ADLER is able to offer the perfect products in this area, and in a very high quality," Cremers tells us.
Successful growth
This has enabled Cremers and his team to make a good name for the company, especially with carpenters and kitchen and furniture manufacturers. "One of our first customers was furniture manufacturer Table du Sud – back then it was a small company with just 15 employees, but they have since enjoyed great success with surfaces created by ADLER and have now grown to ten times their original size," Cremers tells us, looking back. DKG, the largest kitchen manufacturer in the Netherlands, also consistently uses ADLER's products, and ADLER also supplies coatings to various window manufacturers and coating and timber construction companies. At the same time, ADLER has also continuously improved the service provided in the Service Centre in Heeze: there are regular seminars and customer training events, special shades are developed and tinted in the coloristics department and, if customers have any particular issues, the field staff can be with them on their premises in no time at all.
Important part of the Group
Bernd Pichler, ADLER's Sales & Marketing Director is also very pleased: "Taking this step into the Dutch market has proven to be the right thing for us, as our products enable us to fully satisfy the high expectations of this market in terms of quality, innovation and sustainability." ADLER are therefore sticking to their plans for steady expansion of their sales organisation, even in these times of economic insecurity. "ADLER Benelux has developed into an important part of the ADLER Group and we are very proud to have been able to acquire a number of prestigious customers in the Netherlands," Pichler explains.
Team spirit as a success factor
The ADLER Benelux team now has nine members and it has become clear that a key factor in their success is their very special team spirit, as Rebecca van den Biezenbos confirms: "We're a tightly-knit team, we have a lot of fun at work and we give one another a lot of support." She is herself the best example of this flexible approach – since becoming the third member of the ADLER team at the beginning of 2020, she has been involved in all the different areas, depending on what is needed: as an all-rounder in office administration, in the coloristics department, in the organisation of seminars or in marketing. Leon Cremers and Rebecca van den Biezenbos are keen to nurture this positive team spirit so they are always coming up with new ideas – a barbecue evening, a golf excursion or a little party with a cake to celebrate their fifth birthday.
Outlook for the future
And what plans does the Netherlands branch of ADLER have for the next five years? "We are not intending to deviate from our path to success – quite the opposite!" Cremers says, laughing. He still sees huge potential in the region, mainly in the furniture industry, but also in timber construction – not only in the Netherlands, but also in neighbouring Belgium. The infrastructure of ADLER Benelux also needs further development so that the Sales and Technical team can continue to ensure their high standards of service and the individual support that they provide. It's important to Leon Cremers that they don't just focus on the growth of the company, as he underlines: "What's even more important to us is that we continue to provide the best possible support to our existing customers so that we can celebrate our successes together!"
ADLER – paint runs through our veins
With 720 employees, ADLER is Austria's leading manufacturer of varnishes, paints and wood preservatives. Founded in 1934 by Johann Berghofer, this family business is now managed by a member of the third generation, Andrea Berghofer. Every year, 21,000 tonnes of paint leave the Schwaz plant and are delivered to customers in more than 30 countries worldwide. ADLER has sales subsidiaries in Germany, Italy, Poland, the Netherlands, Switzerland, the Czech Republic and Slovakia; their sole production site is the ADLER-Werk Lackfabrik in Schwaz, Tyrol (Austria). ADLER was one of the first companies in its sector to be 100% climate-neutral (since 2018). The company has been able to reduce its carbon footprint to a minimum through a wide range of measures. ADLER offsets any unavoidable residual emissions through the purchase of recognised climate protection certificates, thereby helping to finance new climate protection projects