Halogen dyer for the ADLER application department
"A halogen dryer? Do you get a nice tan from it?" This question is answered with "no" by the staff at the ADLER Application Department referring to the wonderful Tyrolean summer and holiday season. Halogen spotlights do not work with the same wavelength as ultraviolet radiation, but in lower, neighbouring frequency ranges. In simple terms, halogen drying is a process in which moisture is dried from the inside to the outside and can better escape from deeper areas since the coating surface is still permeable.
29 Aug 2019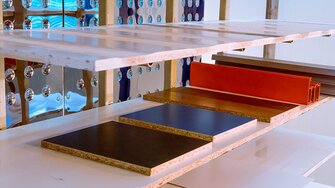 Spotlights and reflectors
In order to test, apply and evaluate this advanced drying method, Austria's leading paint manufacturer ADLER, in cooperation with Gropper GmbH, recently retrofitted halogen spotlights and the corresponding reflectors in the existing drying room of the ADLER application department in an uncomplicated manner; a perfect addition to the already installed system. The spotlights and reflectors were attached to the dryer walls in a space saving manner. Regardless if equipped trolleys, windows on traverses or larger workpieces - the drying of water-based paints can now be carried out easily, quickly and simply. The output of the six emitters is variable and can be adapted to individual conditions.
Stable conditions
Some ADLER customers are already using such halogen spotlights and gained positive experience. The most important aspects for each coating company are the highest possible process reliability, stable conditions and fast drying. Especially in the transition period, constant conditions are an essential factor for good and consistent surface quality. Experience has shown that drying from the inside to the outside significantly reduces the raising of wood fibres and, as a result, the sanding effort is noticeably reduced. The new halogen dryer in the ADLER application technology is now of course also available to customers for trials. The ADLER team will be happy to assisting: When it comes to optimising drying processes and finding suitable solutions, the experienced employees are the ideal contact persons!