Efficient processes, high-quality results: ADLER UV coatings for panels made by Lüchinger Holz AG
Lüchinger Holz AG in Mels (canton of St. Gallen) is one of Switzerland's leading planing mills. As well as making all kinds of planed goods, the family company also produces coated panels for interior and exterior use.
6 Oct 2022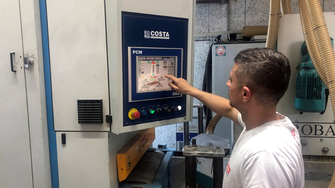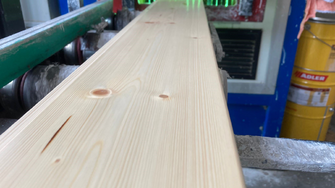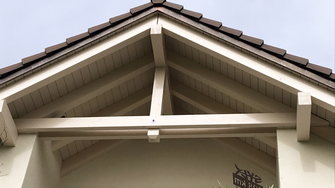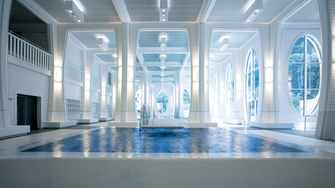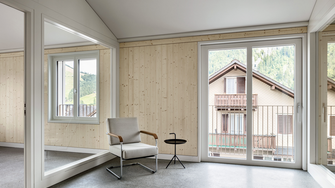 Owners Patrick and Marc Lüchinger and their team put their faith in efficient production processes with a high degree of automation – and in the high-quality UV coating system Pigmolux, made by Austrian manufacturer ADLER.
Tradition and innovation
"Progress is the continuation of tradition". This quote from German philosopher Carl Friedrich von Weizsäcker could effectively serve as a slogan for the company history of Lüchinger Holz AG. Ever since the company was founded more than 100 years ago, it has focused on the processing and finishing of wood – a raw material that is rich in tradition. And progress has always been a core objective: "It has always been important to us to stay absolutely up to date – whether this means in Production or in Logistics, in our fleet or in our plant and equipment," says Patrick Lüchinger, who runs the family business together with his brother Marc, both members of the fourth generation of the founding family. Ten years ago, a unique coating and drying system for timber formwork for exterior use was introduced in the planing mill: "The freshly coated boards are piled up on trolleys and transported into a drying area on the top floor. Here, the trolleys are kept in constant motion by a conveyor system to allow the best possible flow of air. This means that we can dry the entire day's production overnight."
Automation and craftsmanship
For panels in interior areas and in exterior areas that are not directly exposed to the elements, however, Lüchinger prefers to use the UV-curing Pigmolux coating system from Austrian paint and varnish manufacturer and wood protection expert ADLER: on a fully automatic coating line, the panels are first of all sanded down and then given a coat of primer, in this case ADLER Innolux Walzgrund. After curing in the UV channel and intermediate sanding, the panels are spray painted with the topcoat ADLER Pigmolux S. After drying at a temperature of 40 degrees and subsequent UV curing, the completed panels leave the coating plant after a total of around 45 minutes, and can be loaded straight onto the truck.
High-quality surface
However, the efficient coating process was only one of several reasons for Lüchinger putting their faith in ADLER's coating system. Patrick Lüchinger is also very happy with the surface quality achieved: "We used to work with a product from a different manufacturer. When we switched to ADLER, it was essential to us that our customers would not be able to see any visible differences in the colours. To ensure that this could be achieved, the team from the Swiss company ADLER-Lack AG developed six standard shades especially for us." We were also impressed by the high performance and flawless finish of ADLER's coating system: Innolux Walzgrund ensures a high degree of permanent elasticity, insulation and filling performance – "there is no brown discolouration from substances in the wood, and its perfect filling performance means we achieve a surface that is like that of a piece of furniture," Lüchinger tells us – and the topcoat provides effective light protection, which prevents any yellowing of the wood.
Personal service
However, the pivotal factor in the collaboration between Lüchinger and ADLER was ultimately the fast and personal service provided by the team at the ADLER Service Centre in Tuggen near Zurich: "For an efficient production process, it's absolutely essential that you are able to react fast if something goes wrong," Lüchinger tells us. In ADLER customer advisor Ali Yoksul, he has found just the right person to liaise with: "If a problem arises somewhere in production, I know I can call Ali any time and he will be here with me in the factory the next day, trying to find a solution." ADLER also offers a reliable 24-hour delivery service because the base material can be tinted in the Service Centre in Tuggen and then immediately sent out for delivery. Samples on original substrates are also produced here – in any chosen colour and in a range of different textural effects and degrees of gloss. Product quality, process security and service are thus brought together to form an overall package which meets the high expectations of Patrick and Marc Lüchinger: "We want to work with partners who we can trust. With ADLER as a family company, and with our contact person Ali Yoksul and the ADLER team in Tuggen, this trust is simply there – and forms the basis for a successful shared future."
ADLER – paint runs through our veins
With 670 employees, ADLER is Austria's leading manufacturer of varnishes, paints and wood preservatives. Founded in 1934 by Johann Berghofer, this family business is now managed by a member of the third generation, Andrea Berghofer. Every year, 22,000 tonnes of paint leave the Schwaz plant and are delivered to customers in more than 30 countries worldwide. ADLER has sales subsidiaries in Germany, Italy, Poland, the Netherlands, Switzerland, the Czech Republic and Slovakia; their sole production site is the ADLER-Werk Lackfabrik in Schwaz, Tyrol (Austria). ADLER was one of the first companies in its sector to be 100% climate-neutral (since 2018). The company has been able to reduce its carbon footprint to a minimum through a wide range of measures. ADLER offsets any unavoidable residual emissions through the purchase of recognised climate protection certificates, thereby helping to finance new climate protection projects.