Bluefin Unistar: An ADLER varnish for all purposes
Spectacular special effect surfaces, an elegant high-gloss look, shimmering metallic effects: ADLER's diverse range of furniture varnishes allows you to realise any imaginable design idea.
10 Mar 2022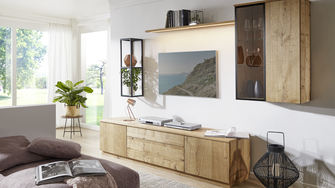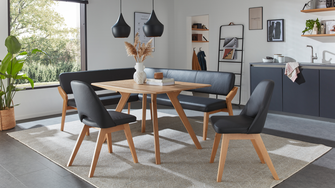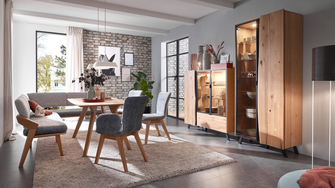 But let's be honest: for completely normal, everyday tasks in the carpentry workshop, it's not an extravagant, super hero of a varnish that is called for, but rather a reliable all-rounder: suitable for universal use, efficient and user-friendly, yet with great results and no need to make any compromises. With their new Bluefin Unistar, this is exactly the product that ADLER is bringing onto the market: a water-based varnish for all purposes!
Convenience and ease of use
There's no question that water-based paints and varnishes are good for both people and the environment. For a long time, however, they had a reputation of being complicated to use and prone to issues. Bluefin Unistar gets rid of these prejudices once and for all: the new star in ADLER's water-based varnish range is just as easy and convenient to use as solvent-based products, something that carpenters and joiners will really appreciate: it can be applied directly onto all of the usual types of wood – including oak – and can be used as either a single-component or a two-component product, depending on your requirements. Used as a 2C product, this varnish has the advantage of an extremely long pot life – varnish that is left over on Friday can still be used again on Monday morning. An improved initial drying time means that the surface can be sanded after only one hour. In addition to being very user-friendly, Bluefin Unistar also produces an impressive high-quality surface: excellent filling performance, very good grain accentuation and a high degree of transparency come together to create a flawless look and feel, with outstanding protection against scratches and marks.
Unique overall package
Reinhard Huber, whose team developed this new all-rounder in ADLER's furniture varnish lab, explains: "Here at ADLER, we have been developing water-based paints and varnishes for commerce and industry for 40 years now. We have drawn on this wealth of experience to put together an overall package for our customers that is certainly unique in this form." Bluefin Unistar gives you the efficiency of an industrial product but is so straightforward to use and flexible that it is suitable for almost any area of application in a carpentry workshop. The varnish also has outstanding eco-credentials, with a VOC content of less than 3 % and made with manufacturing methods that strive to conserve resources, leading to the varnish being awarded the Austrian Eco-Label. That's why Reinhard Huber is convinced that "Bluefin Unistar not only has what it takes to become the new favourite product of users of water-based coatings. It will also make it easier for carpenters who are still using solvent-based varnishes to make the switch to a more environmentally friendly and sustainable coating process by using water-based varnishes."
ADLER – paint runs through our veins
With 670 employees, ADLER is Austria's leading manufacturer of varnishes, paints and wood preservatives. Founded in 1934 by Johann Berghofer, this family business is now managed by a member of the third generation, Andrea Berghofer. Every year, 22,000 tonnes of paint leave the Schwaz plant and are delivered to customers in more than 30 countries worldwide. ADLER has sales subsidiaries in Germany, Italy, Poland, the Netherlands, Switzerland, the Czech Republic and Slovakia; their sole production site is the ADLER-Werk Lackfabrik in Schwaz, Tyrol (Austria). ADLER was one of the first companies in its sector to be 100% climate-neutral (since 2018). The company has been able to reduce its carbon footprint to a minimum through a wide range of measures. ADLER offsets any unavoidable residual emissions through the purchase of recognised climate protection certificates, thereby helping to finance new climate protection projects.