Big show at the SICAM: The ADLER superheroes are arriving
Where do the invisible ones, the transformers, and the strongest boys come together? To the cinema? To the comics universe? No way! They fly straight to the SICAM international furniture trade fair in Pordenone! If you want to experience true superheroes live, plan a visit to the exhibition stand of the leading Austrian paint manufacturer ADLER (stand B2 / Hall 9). The latest products for surface design will thrill you with their incredible superpowers.
2 Oct 2019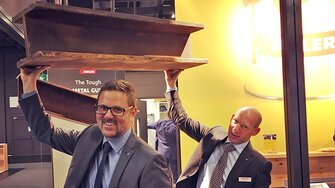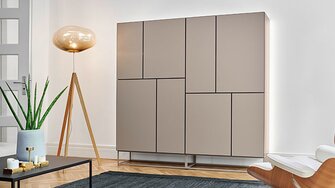 Hard on the outside…
Thanks to the ADLER superheroes who come out of the tin, even a steel beam can be taken lightly: What you see there in the exhibition booth inviting you to lift it is not real, rusty iron. It only looks like it and also feels like it: The effect finish ADLER Aqua-Pure-Metal has turned wood into something that looks deceptively close to metal. Just as fast, the changeable material switches to a concrete outfit with the help of Bluefin Pure-Concrete.
…soft on the inside
But true superheroes don't only look good, they are also strong. Just like Aduro Softmatt from ADLER, which provides excellent protection against everyday stresses and strain, but has a soft core under that hard shell: Despite the great durability, furniture surfaces coated with Aduro Softmatt feel wonderfully soft and velvety. Bluefin Pigmosoft can do it too - but in colour! Among paints, it is the transformer - it always has the trendiest nuance and even magical powers: Fingerprints and scratches magically disappear overnight thanks to its self-regeneration skills.
Fast as lightning
Speed is the strength of Bluefin Pure-Wood, Bluefin Rocketfill, and the new Innolux Vita-Oil. They enable fabricators to achieve maximum efficiency in the coating process. And when it comes to coating technology, even the heroes from the future come to ADLER: Visitors can get up close and personal with the latest technologies such as Digital Embossing and Excimer technology. So: Meet your ADLER superheroes at the SICAM trade fair from 15 to 18 October in Pordenone, Italy, at Stand B2 in Hall 9.