Beech, bentwood, stain: perfect teamwork from Thonet and ADLER
A name that symbolises contemporary seating design like no other: Thonet is the embodiment of good chair design. More than 160 years ago, Michael Thonet wrote design history with his iconic classic, the Viennese coffee house chair, model no. 14 (today 214) and, in doing so, created an inextricable connection between his country of birth, Germany, and Austria, the country he chose to make his home in.
25 Oct 2022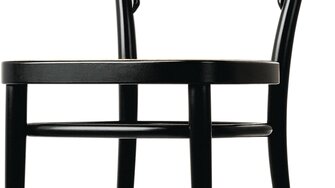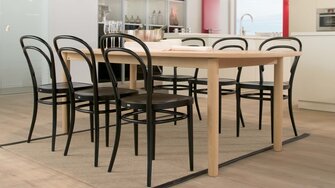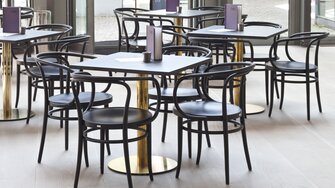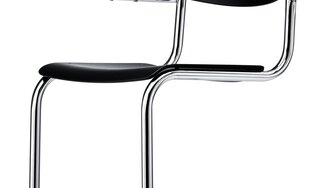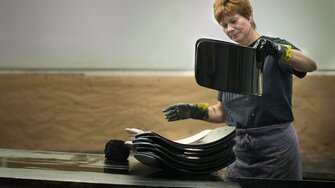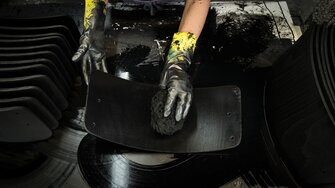 A connection that still exists to this day – as is shown by the fruitful collaboration between ADLER and Thonet: Austria's leading manufacturer of paints and varnishes ensures that the timeless seating designs of this Hessian manufacturer are given elegant looking surfaces with the highest possible standards of durability.
Hand-crafted and series production
With his model no. 14, Michael Thonet laid the foundations for industrial series production and modern furniture design. And still today, the clever combination of hand-crafted elements and the division of labour are producing great results: the wooden elements, which are shaped through the use of steam and muscle power in a revolutionary method developed by Thonet himself, are stained by hand to create an elegant black look: in the factory in Frankenberg, employee Regina Hasenzahl dips the beech elements into a bath containing the dip-coating stain ADLER Arova Flex. "This flexible stain system has been especially developed to dip-coat furniture components," reports ADLER stain expert Michael Moser, who has travelled specially from Schwaz in Tyrol to spend time with Thonet's employees fine-tuning the product for their requirements.
Allowing excess stain to drip off and wiping across the surface
Regina Hasenzahl quickly lifts out the components and places them on a slanted surface to allow the excess stain to drip off. This runs back into the dip-coating bath – a process that saves on resources and protects the environment. To ensure a perfect result, she now takes a natural sponge from the Aegean Sea, as only a natural sponge will achieve an even and high-quality surface. It's not possible to achieve the same level of quality with an industrially manufactured sponge. She wipes it across the hardwood stain, once diagonal to the direction of the wood fibres and once lengthways in the same direction as the fibres. A maximum of one or two minutes passes between dip-coating and wiping! If the stain dries too quickly, the sponge is wetted again with a little stain to ensure a uniform finish. "With staining, the texture of the wood is retained, and the characteristic wood grain is perfectly enhanced," explains Horst Viehmeyer, who is responsible for ensuring high-quality surfaces at Thonet – this is why this traditional manufacturer prefers to use staining for its "signature" colour.
Sanding down and applying a topcoat
After drying overnight, the wooden components are carefully sanded with a sanding pad and then coated with ADLER's water-based UV varnish Aqualux MSL Eco. The Thonet chairs are now perfectly equipped for use in coffee houses, event halls, restaurants and residential spaces across the world: an unbelievable 50 million chairs of model 214 have been sold in the period since 1930 – not counting the countless copies which have allowed imitators to enjoy a piece of Thonet's renown. And on the subject of enjoyment: the customers of "Pepe Nero" near the Isar Gate in Munich can enjoy their Italian delicacies sitting in the original versions: the latest branch of this chain of restaurants to open has been fitted out with 150 specimens of the bentwood classic, many of them in the elegant ADLER black-stained version. In the "Table" in the Schirn Art Gallery in Frankfurt, by contrast, guests enjoy their food in the model 209 with arm rests: this chair, known as the "Le Corbusier chair" because it was the favourite of the famous architect, has a more generous, curved shape, once again with the dark, ADLER Arova-Flex look.
Tradition and modernity
But it's not only the "chair of chairs" and its brother with arm rests, but also the next stroke of genius that Thonet used to turn the world of furniture upside down in the 1930s, and his further design developments are today often seen wearing a coat of ADLER stain: the tubular steel cantilever chair, made according to the designs of Mart Stam and Marcel Breuer, cleverly combined the use of tubular steel – an industrial material, at the time unusual in furniture construction – with traditional timber elements and typical Viennese wickerwork. A combination that still today creates quite a furore – for example, in the restaurant "Pageou" in Munich, which is owned by top chef Ali Güngörmüş: the dark stained finish, created with ADLER Arova Flex, fits in perfectly with the black and white Art Deco style that designer Nora Witzigmann has conceived for the restaurant's interior.
Origins and the future
The Thonet success story thus weaves its way through eras, cities and different areas of use. Yet one thing has always been especially important to the company, which now has just one production site in Frankenberg: their collaboration with partners who share Thonet's ideals: a long lifespan through the use of high-quality materials, and faultless manufacture and finishing. Which is exactly the approach that ADLER takes!
ADLER – paint runs through our veins
With 670 employees, ADLER is Austria's leading manufacturer of varnishes, paints and wood preservatives. Founded in 1934 by Johann Berghofer, this family business is now managed by a member of the third generation, Andrea Berghofer. Every year, 22,000 tonnes of paint leave the Schwaz plant and are delivered to customers in more than 30 countries worldwide. ADLER has sales subsidiaries in Germany, Italy, Poland, the Netherlands, Switzerland, the Czech Republic and Slovakia; their sole production site is the ADLER-Werk Lackfabrik in Schwaz, Tyrol (Austria). ADLER was one of the first companies in its sector to be 100% climate-neutral (since 2018). The company has been able to reduce its carbon footprint to a minimum through a wide range of measures. ADLER offsets any unavoidable residual emissions through the purchase of recognised climate protection certificates, thereby helping to finance new climate protection projects.