Automation made easy: paint cobots undergo a practical test
They are the little all-rounders of robot technology: collaborative robots, known as cobots, are today being used for a wide range of different processes: to operate machines, for order picking of parts, for lifting and for welding – and most recently to apply paint and varnish: in the Application Technology Skills Centre of Austria's leading manufacturer of paints and varnishes.
22 Aug 2022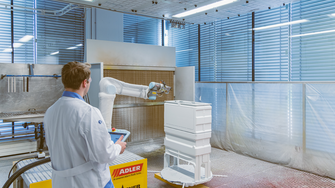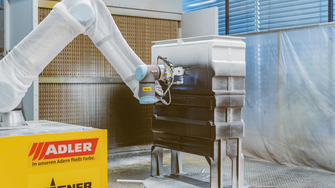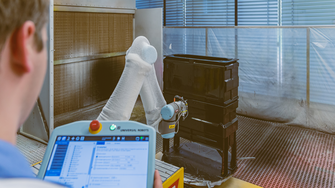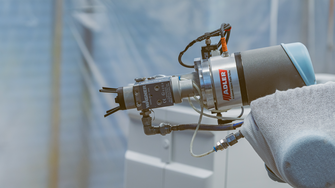 Flexible and straightforward
Most large window and door manufacturers use paint robots to coat their surfaces. And yet, classical robot technology is not the best choice for every area of application: it may require too much space, the cost of programming the robots may be too high, and it may offer too little flexibility. This is where "paint cobots" could in future come into play: these collaborative robots enable barrier-free interaction between man and machine, can be used in a wide range of ways, and are straightforward to use. Matthias Stötzel, Head of Application Technology for Windows & Timber Construction at ADLER, explains: "A cobot can very easily be programmed for any chosen sequence of movements. The programming is far less complicated than with a conventional paint robot." Thanks to the wide range of movement of the robot's arm, it can also be used to apply coatings to highly complex, geometrical structures: "In our field test, we applied coatings to chairs and control cabinets, wheelbarrows and frameworks – we achieved convincing results in all cases," Stötzel tells us. Because they are so easy to programme, it's also worthwhile using a cobot for small production runs, where they can ensure high-quality coating and a high degree of accuracy and repeatability.
A lot of automation in a small space
A further advantage: the small amount of space needed: "For a normal paint robot, you need special protective equipment and perhaps also a special painting booth. The cobot, by contrast, can be used in any working environment, with man and machine working pretty much shoulder to shoulder," explains Stötzel. For the field test in the ADLER Application Technology Centre, carried out in collaboration with the Centre for Production, Robotics and Automation at MCI Innsbruck, a cobot was fitted with an air-mix pistol and mounted on a transportable attachment. The prototype was tested over a period of several months in a wide range of areas of application – and passed the test with flying colours: "We can now answer the question as to whether cobots are suitable for use in surface coating with a resounding Yes," Stötzel tells us. The tests enabled the ADLER team to gather some valuable experience in coating technology: "Cobots provide an exciting alternative, even for smaller manufacturers – they allow automation to be put into practice with a low level of costs and a great deal of flexibility. I'm pleased that we are now able to provide support to our customers in this area, with the practical knowledge and experience we have gained."
ADLER – paint runs through our veins
With 670 employees, ADLER is Austria's leading manufacturer of varnishes, paints and wood preservatives. Founded in 1934 by Johann Berghofer, this family business is now managed by a member of the third generation, Andrea Berghofer. Every year, 22,000 tonnes of paint leave the Schwaz plant and are delivered to customers in more than 30 countries worldwide. ADLER has sales subsidiaries in Germany, Italy, Poland, the Netherlands, Switzerland, the Czech Republic and Slovakia; their sole production site is the ADLER-Werk Lackfabrik in Schwaz, Tyrol (Austria). ADLER was one of the first companies in its sector to be 100% climate-neutral (since 2018). The company has been able to reduce its carbon footprint to a minimum through a wide range of measures. ADLER offsets any unavoidable residual emissions through the purchase of recognised climate protection certificates, thereby helping to finance new climate protection projects.