"ADLER will change our market"
When ADLER spreads its wings, it can fly quite far – most recently as far as South Korea. There, the building materials dealer SAMIK, a newcomer among ADLER's trading partners, is celebrating its first successes with quality products made in Tyrol – and still has a lot planned for the future.
14 Apr 2021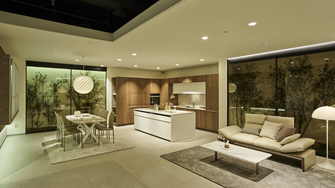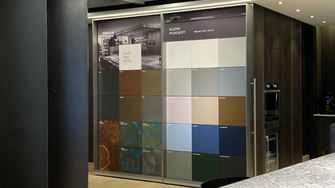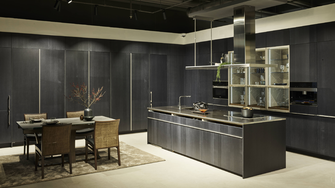 The market for furniture and interior design in South Korea has, somewhat surprisingly, a great deal in common with that in Central Europe: In both places naturalness is the trend, and natural wood surfaces with a matt look are popular. But there is one big difference: While most major manufacturers in this country use water-based paints, solvent-based coatings dominate in South Korea. But now things are about to change – at least if SAMIK has its way. Since 1979, the company has been selling a wide variety of building products in South Korea – from windows and veneered panels to paints and varnishes. SAMIK first became aware of ADLER at the Bau 2019 trade fair: "For our veneers, we were looking for a high-quality water-based paint that preserves the natural colour of the wood, protects against yellowing and has a high scratch resistance," says purchasing manager Chris Kim. ADLER's high-quality Aqua-Top Antiscratch water-based paint fitted this requirement profile perfectly and aroused SAMIK's interest. This was followed by a visit to Schwaz with initial practical tests and a return visit to South Korea by ADLER sales manager Christoph Müller and technician Veli Nyman – "that helped us a lot in this initial phase," says Kim.
Successful start
At Christmas 2019, the first container of ADLER tins finally made its way to South Korea – and proved an instant success there: Hanssem, the largest furniture manufacturer in South Korea and among the top 5 kitchen manufacturers worldwide, is one of the first ADLER processors in South Korea. "The cooperation with Hanssem is a huge success for us – Hanssem is a very important and influential company, if ADLER is relied on there, then many other processors will follow," Kim is convinced.
Colour-coordinated
In addition to Aqua-Top Antiscratch, SAMIK also has other ADLER products in its range. "Some of our customers are interested in ADLER's real metal effects – such surfaces are an absolute novelty in South Korea." SAMIK also has high expectations for the coloured, water-based furniture paint Bluefin Pigmosoft: "Multi-coloured kitchen appliances, such as those offered by Samsung, are very trendy in South Korea at the moment. With Bluefin Pigmosoft, kitchen surfaces can be painted in exactly the same colour. In addition, the paint is exceptionally resistant with its unique self-regeneration ability," Kim enthuses.
Big plans
SAMIK plans to further expand its product portfolio over the next few years, with a constant focus on industrial manufacturers and carpenters – "the DIY market in South Korea is very small, we are used to having such work done by external companies rather than doing it ourselves," says Kim. He also hopes to inspire other well-known furniture manufacturers such as Hyundai and LG – yes, that's right, in addition to cars and electronic products, furniture is also part of their portfolio – to join ADLER: "Our goal is to change the market in South Korea and make water-based paints the new standard. I am convinced that ADLER's products will bring about this change."