ADLER-Lacke produces disinfectants
Extraordinary situations require extraordinary measures: For several weeks now, Austria's leading paint manufacturer ADLER has been producing high-quality disinfectant in Schwaz. The Tyrolean family business is thus making an important contribution to the fight against the corona pandemic.
15 Apr 2020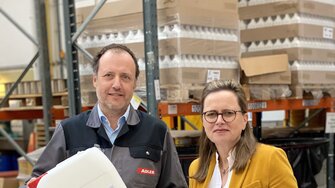 Highest quality
Disinfectants are indispensable in the fight against the spread of the coronavirus. In hospitals and retirement homes, in supermarkets and on public transport, hands and surfaces must be disinfected regularly to kill viruses. However disinfectants have been in short supply for weeks. Therefore, ADLER's management promptly decided to produce hand and surface disinfectants itself. "In our ultra-modern paint factory in Schwaz, we have the necessary equipment and know-how to produce disinfectants in high quality and large quantities," explains Production Manager Romed Staggl. Based on the approved recipe of the World Health Organization (WHO), we have been producing ADLER Clean Hand Disinfectant for hands and ADLER Clean Disinfectant Pro for surfaces for several days. The same applies here as for ADLER paints and varnishes: Quality is our top priority. "Every production batch is put to the acid test in our in-house quality laboratory before it is bottled," emphasises Staggl.
Valuable contribution
"It is a good feeling to make a contribution to the common cause in this way," says Claudia Berghofer, Head of ADLER Corporate Communications. "We have numerous advance orders from healthcare institutions and companies and can hardly keep up with production." Several thousand litres of ADLER Clean Disinfectant have already been bottled and delivered. ADLER is donating two tons to retirement homes and social institutions in the Schwaz area. And the ADLER team benefits from this too: With ADLER Clean Disinfectant, the hygiene measures on the factory premises are further improved, and the company also provides its employees with disinfectants for their own household. In addition, the new production branch is also helping to maintain operations at the Schwaz paint factory: "We are currently fully capable of production and delivery - in particular, we are receiving more orders than ever before via our online shop www.adler-farbenmeister.com. Our goal is to get through this difficult phase without short-time work - the production of disinfectants will certainly help us in this," explains Berghofer.
The products
ADLER Clean Hand Disinfectant is a skin-compatible, moisturising hand disinfectant. ADLER Clean Disinfectant Pro is a high-quality, residue-free surface disinfectant. Both disinfectants are produced according to the recognised WHO recipe and are highly effective against viruses, bacteria and fungi.
Orders
For detailed information on a possible delivery to your country, please contact Mr. Thomas Stolz thomas.stolz@adler-lacke.com