ADLER are investing in the future
Austria's leading manufacturer of paints and varnishes is once again able to look back on an extremely successful business year. Across all divisions and sales regions, the company has been able to increase its turnover to EUR 151 million. Despite all the crises we have faced – from coronavirus through to a difficult market for raw materials – ADLER has been able to continue manufacturing and delivering its products without interruption, and has won over around 4,000 new customers to the high-quality products from their paint and varnish factory in Schwaz. Yet ADLER is once again looking ahead to the future: "We aren't resting on our laurels; instead we are making major investments in the future," emphasises CEO Andrea Berghofer.
5 Apr 2022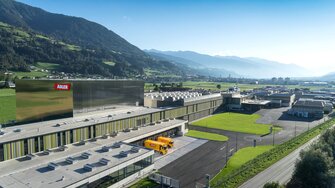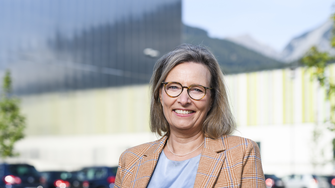 Factory of the Future
A couple of years back, ADLER opened a new factory in Schwaz – the most advanced water-based coatings factory in Europe – together with a new Logistics Centre. Now, with their project "Factory of the Future" they are starting work on the next stage of expansion. In the coming months, they will be constructing a fully automated raw materials warehouse and a new materials preparation hall. Here, members of staff will put together the raw materials that are needed for each production batch – with help from digital equipment and working at high-tech, ergonomically designed workstations. Once this phase is completed, a third production hall for water-based coatings will be built, and the company also has plans for a new Incoming Goods section. ADLER will be investing around EUR 100 million into the project, which sees the company creating new production capacity and continuing on their steady path to Industry 4.0. "Our goal is digitalisation, but with a sense of proportion, allowing us to make things easier for our employees whilst continually improving the quality of our products. In the future too, our highly qualified employees will be the focal point of our planning," underlines Director of Production Romed Staggl.
Dense service
network Yet the company is not only investing in the ADLER head office in Schwaz, but also in their branch offices: in Vienna, preparations are underway for the construction of a generously-sized, high-tech service centre; ADLER's Czech subsidiary have recently moved into a new head office, and in Germany too, there are plans for the ADLER network to be linked together more closely. "One of ADLER's great strengths is our customer service. With our service centres and subsidiaries across the whole of Central Europe, we are always close to our customers and able to give them great all-round support," says CEO Berghofer.
Sustainable philosophy
With this comprehensive package of investment measures, ADLER remains true to its corporate philosophy: "We don't focus on short-term profits, but rather on long-term stability and success," explains Andrea Berghofer. The investment programme also sees ADLER renewing their commitment to Schwaz as a location, and they will be creating countless new jobs there: "Schwaz is the place where my grandfather laid the foundations for our company, almost 90 years ago. My father, Günther Berghofer, made us into Austria's leading manufacturer of paints and varnishes – and in the future too, this site will continue to be the heart of the company," the CEO underlines.
ADLER – paint runs through our veins
With 670 employees, ADLER is Austria's leading manufacturer of varnishes, paints and wood preservatives. Founded in 1934 by Johann Berghofer, this family business is now managed by a member of the third generation, Andrea Berghofer. Every year, 22,000 tonnes of paint leave the Schwaz plant and are delivered to customers in more than 30 countries worldwide. ADLER has sales subsidiaries in Germany, Italy, Poland, the Netherlands, Switzerland, the Czech Republic and Slovakia; their sole production site is the ADLER-Werk Lackfabrik in Schwaz, Tyrol (Austria). ADLER was one of the first companies in its sector to be 100% climate-neutral (since 2018). The company has been able to reduce its carbon footprint to a minimum through a wide range of measures. ADLER offsets any unavoidable residual emissions through the purchase of recognised climate protection certificates, thereby helping to finance new climate protection projects.