A quantum leap in terms of pot life: the new Aqua-Hardener PRO from ADLER
Small dose, big effect: this hardener gives two-component coating systems the resilience they need to withstand wind and stormy weather, knocks and scratches, and also makes them highly resistant to creams and grease. Aside from their numerous advantages in terms of surface quality, two-component coating systems do however have one major limitation: pot life. With high-quality hardeners, the time window during which the paint or varnish can be used is often as short as two hours, and may be even less. Up until now, at least. Because with our new Aqua-Hardener PRO, ADLER are bringing about a real revolution in the field of window and front door coatings – for an even more durable and beautiful surface. High performance. Easy to apply. A more environmentally friendly formula. But most important of all: a pot life of eight hours or even more.
22 Jun 2021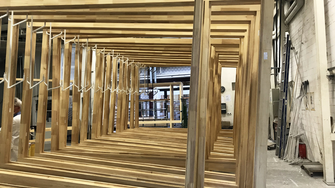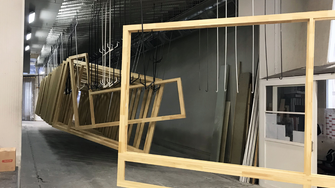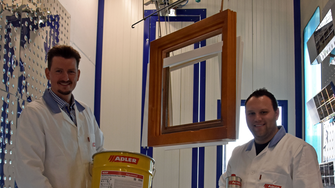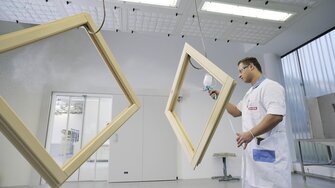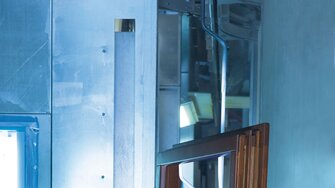 Flexible and versatile
The ADLER laboratory has always had a great reputation for finding innovative and practical solutions to achieve the perfect surface. With their new Aqua-Hardener PRO, ADLER have once again come up with a spectacular new development: "Our new hardener represents a quantum leap in terms of flexibility and versatility in the process of applying our coatings," says Dr Simon Leimgruber, Head of Development for window coatings at ADLER. With a pot life of at least eight hours, 2C coating systems remain usable for a whole working day. As the paint or varnish does not tend to form a gel, it can also be used with all current equipment for applying single-component coatings. There are also further plus points – the coating is extremely easy to sand and it flows very well. And because the hardener is manufactured using an isocyanate-free formula, it is also particularly safe and easy to use.
New perspectives
And the end result? Pretty impressive: "Compared to other hardeners, Aqua-Hardener PRO ensures particularly high luminance and a beautiful pore pattern," explains Leimgruber. The hardener also guarantees the same chemical and mechanical resistance and the hardness that users of ADLER products are accustomed to – "in terms of permanent elasticity and wet adhesion, this hardener is even a step ahead of comparable products," emphasises Leimgruber. As a first step, the new Aqua-Hardener PRO is intended for use with ADLER's tried-and-tested Aquawood window and front door coating system. In addition to this, it can also be used with ADLER Polycolor 2K SQ to coat PVC or aluminium window frames. But that's not all: "Aqua-Hardener PRO's unique formula opens up a number of completely new perspectives for the further expansion of our 2C range," Leimgruber explains. "We're working all out in our lab to realise the full potential of this innovative technology – so watch this space!"
Stringent requirements
One of the companies that appreciate the new possibilities that Aqua-Hardener PRO is opening up is ERNE AG Holzbau, based in Laufenburg on the German/Swiss border. ERNE regularly realises major timber construction projects, including facades and interior fittings, windows and doors, and they are committed to innovative technologies, sustainable design and efficient implementation. With the new building for the Baden Cantonal Hospital, planned for completion by 2022, the ERNE windows section faced an unexpected challenge: for the windows of the new hospital, which, like the facade, are to be made from silver fir, the client not only requested a high-quality, natural look and feel, but also set out stringent requirements in terms of durability and weather resistance. Requirements that ADLER's 2C window coating system Aquawood Diamond is easily able to meet. However: "Up until now, we have exclusively been working with single-component window coatings," Bernd Arzner, Head of Production for the ERNE window section, tells us. "We have a highly advanced plant with a paint robot, but it is not set up for two-component coatings." They were therefore very sceptical: would it be possible to use a 2C coating with a single-component paint robot? Would the paint line perhaps get damaged, or would the spray nozzles get blocked? With a robot that has eight paint pistols this could be quite a catastrophe! Yet Jürg Niebecker, ADLER Key Account Manager for Windows, was able to reassure Arzner and the ERNE team: with the new Aqua-Hardener PRO, the two-component Aquawood Diamond coating system can also be used with single-component equipment without an issue.
Perfect results
So it was that a total of 1,800 square metres of window frame were coated over the course of three working days in May 2021 – and Niebecker was able to deliver on his promise. "Applying the two-component coating was essentially very straightforward – we mixed it at the beginning of the day and, even after more than eight hours, it was still perfectly usable," Arzner tells us. "Thanks to the amazing support we received from the ADLER team, we were able to complete the windows for the Cantonal Hospital without any difficulties, and the look and feel of the surfaces also came up to our high expectations." This successful trial with the new Aqua-Hardener PRO opens up some interesting perspectives for the future, as the Head of Production of ERNE Holzbau AG emphasises: "We regularly receive enquiries where the customer requires an especially resilient and long-lasting surface quality – ADLER's new hardener technology means that we can take on assignments such as these without any risk, making use of our existing plant and equipment – and we can deliver high-quality results!"
More information
DOWNLOAD: Interview with Dr Simon Leimgruber, Head of the Development Department for Window Coatings, and application technologist Marco Ungericht on ADLER's new Aqua-Hardener PRO
ADLER – paint runs through our veins
With 620 employees, ADLER is Austria's leading manufacturer of varnishes, paints and wood preservatives. Founded in 1934 by Johann Berghofer, the family business is now managed in its third generation by Andrea Berghofer. 18,000 tonnes of paint leave the Schwaz plant every year and go to customers in more than 25 countries worldwide. ADLER has sales companies in Germany, Italy, Poland, the Netherlands, Switzerland, the Czech Republic, and Slovakia; the only production site is the ADLER-Werk Lackfabrik in Schwaz / Tyrol (A). ADLER is one of the first companies in its industry to be 100% climate-neutral since 2018. ADLER has been able to reduce its carbon footprint to a minimum through a wide range of measures. ADLER offsets any unavoidable residual emissions through the purchase of recognised climate protection certificates, thereby helping to finance new climate protection projects.