Lots of light, bright wood, no yellowing
A combination as timeless as it is beautiful: bright wood and lots of light. Whoever builds today no longer thinks in windows, but in glass fronts, sliding doors, panorama windows - daylight in the living room is pure quality of life. The same goes for genuine, bright wood, which improves the room climate, flatters the eyes and creates a warm atmosphere. Unfortunately, however, the two do not get along, light and wood - there is a risk of yellowing. But there is a solution to this problem!
17 Sep 2019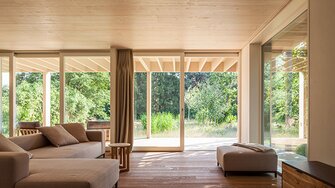 Lignovit Interior UV 100 is a colourless interior glaze finish that protects the wood and its natural beauty. "It is a misconception that wood only needs a coating on the outside. Even inside, untreated wood does not remain beautiful for long if it is not protected. Depending on the type of wood, it yellowens, turns grey or fades - the more light, the faster", explains ADLER architectural consultant Manfred Höfurthner.Lignovit Interior UV 100 was developed to prevent just that. The interior glaze is a kind of sun cream for wood that makes the two of them get along after all. Architects do not have to do without generous incidence of light or light-coloured wood.
No yellowing, no pollution
Every type of wood reacts individually to sunlight. This is why ADLER has developed different light protection systems for different types of wood. Lignovit Interior UV 100, for example, is not available colourless for the fir tree, which is particularly popular in the interior, but in the slightly whitish shade "fir tree". Other - all light - shades are "Montblanc", "Großglockner" and "Zugspitz". "Through the added pigments and special, highly effective light stabilizers, the glaze stabilizes the lignin in the wood and protects coniferous wood from unattractive colour changes," explains Dr. Markus Fessler from the ADLER Timber Construction development department. It goes without saying that the water-based glaze finish, which is certified with the Austrian eco-label, is free of chemical wood preservatives and guarantees an absolutely harmless use in the interior. Its high breathability ensures a healthy indoor climate. This means that the desire for plenty of light in the living area and permanently beautiful, natural wood is no longer a contradiction in terms - thanks to Lignovit Interior UV 100.