Innovative strategies for forward-looking products
Austria's leading manufacturer of paints and varnishes, ADLER, invests 10% of its annual turnover into Research & Development. 110 members of staff are employed in the laboratory and in the Application Technology department in their factory in Schwaz. This is an area where ADLER pursues a clear strategic focus: sustainability and efficiency, "smart coatings" and innovative coating technologies are the guiding principles that they follow for the development of all their new products and the optimisation of existing ones.
27 Jan 2022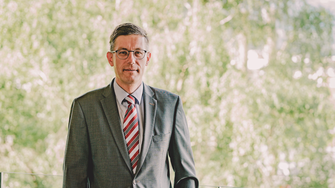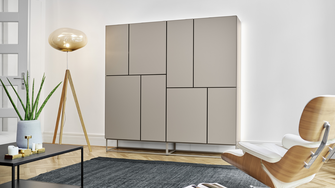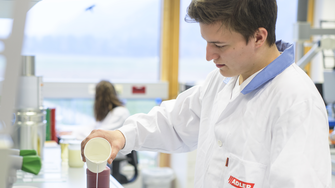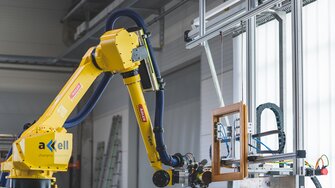 ADLER's Director of Research & Development, Dr Albert Rössler, explains what these strategic focal points mean in actual practice.
Guiding principles for sustainability
"As a manufacturer of paints and varnishes, the key thing for us is this question: how can we make the coating process better and more attractive for our customers?" Dr. Rössler tells us, summing up the company's approach. The quality and functionality of a coating play just as important a role as efficiency in use and sustainability: "Sustainability forms a kind of umbrella over our strategy. We will not engage in any new development projects that do not mean added value in terms of sustainability." This starts with the selection of raw materials – for example, by choosing renewable materials or by not using biocides – and goes right through to the long life and durability of the surface: "High-quality coatings give the surface a long lifespan which means greater efficiency in terms of the use of resources," Dr Rössler explains.
Efficiency in use
The same applies to the use of their products: "The coating process is extremely resource-intensive. If we succeed in making this process more efficient, this not only creates added value for the customer, it also results in savings in terms of energy, materials and waste." A surface that is easier to sand, such as the new ADLER spray filler Aduro Ecofill Smart; efficient systems such as the furniture varnish Bluefin Smart, which only requires a single coat; faster drying, as with the UV-curing Innolux Vita-Oil; or efficient 3in1 systems such as the wood protection glazes Lignovit and Pullex 3in1: each of these products makes a key contribution towards greater efficiency and thus to more sustainability in the coating process. And there is a further aspect that is important to Dr Rössler: "The more widely a coating can be used, the fewer different products a customer requires. This starts with our universally applicable hardeners and impregnation products and goes through to our furniture varnish systems, which are suitable for a diverse range of different purposes."
Smart formulas
The key to these improved product features is found in the formulas used for the various paints and varnishes, and in innovative combinations of raw materials. This also applies to the so-called "smart coatings", which ADLER's R&D department is focusing on in particular. What does this actually mean? "The main task of a paint or varnish is to protect a surface and to make it look attractive. With 'smart coatings', we try to give the paint or varnish additional functionalities on top of this." For example, ADLER has developed the first auto-restoring coatings for wooden windows, based on a patented microcapsule technology. The furniture varnish Bluefin Pigmosoft has the capacity to self-regenerate if it gets scratched or if shiny patches develop. And ADLER's window frame and exterior door coatings can be supplied with a special anti-heat functionality. "We are currently spending a lot of time working on the area of fire prevention, which is becoming increasingly important due to the boom in timber construction. In the coming months, we will be presenting an absolutely unique coating technology in this field."
Future techniques
With all these new developments, the product in question is never considered in isolation, but rather the entire coating process, from pre-treatment of the substrate to drying and hardening. With this in mind, ADLER recently introduced Abramotion, the first sensitive sanding robot for wooden windows. There are also various new coating technologies that offer interesting perspectives and ADLER are focusing intensively on these. In particular, Dr Rössler has high expectations of the Excimer technique for extremely matt and highly resistant painted surfaces: "The advantage of Excimer is that the machinery required can be integrated into existing coating equipment with relatively little additional cost or effort." ADLER have their own Excimer equipment in the Application Technology department, which allows them to expand their portfolio for this process whilst at the same time offering customers hands-on support. ADLER also offers optimised coating systems for Calander Coating Inert, DLE and digital printing. "Digital printing is an exciting technology for individually designed surfaces in both indoor and outdoor areas," explains Dr Rössler. "We started working with this technology very early on and can offer our customers the perfect coating structure, consisting of primer and topcoat, for any area of application."
Close links with the customers
In the past few years, ADLER has become well-established as an innovation leader in the area of surface finishing. More and more customers are building on the product innovations and technological skill of this Austrian paint and varnish manufacturer. This of course brings us to the question: what is the secret behind their innovative strength? Dr Rössler can provide the answer: "Innovation doesn't just come out of nowhere, it is made by people: by our outstanding ADLER employees with their specialist expertise, their creativity and their hard work." Yet in regard to the secret of their success, that's not the whole story, Dr Rössler adds: "Innovation always happens at the interfaces. It requires close networking with research institutes who develop the enabling technologies and with suppliers who we collaborate with to develop new concepts for raw materials. Above all, it requires conversations with the users. Our technicians and developers spend a lot of time on our customers' sites. We look at their processes, we find out about the challenges they are facing, we listen to their ideas and incorporate them into our development process. And it works the other way round too – we also give our customers new perspectives, for example with respect to sustainable coating techniques. This open, trust-based dialogue between partners, treating one another as equals, is the fertile soil in which innovation grows well."
ADLER – paint runs through our veins
With 670 employees, ADLER is Austria's leading manufacturer of varnishes, paints and wood preservatives. Founded in 1934 by Johann Berghofer, this family business is now managed by a member of the third generation, Andrea Berghofer. Every year, 22,000 tonnes of paint leave the Schwaz plant and are delivered to customers in more than 30 countries worldwide. ADLER has sales subsidiaries in Germany, Italy, Poland, the Netherlands, Switzerland, the Czech Republic and Slovakia; their sole production site is the ADLER-Werk Lackfabrik in Schwaz, Tyrol (Austria). ADLER was one of the first companies in its sector to be 100% climate-neutral (since 2018). The company has been able to reduce its carbon footprint to a minimum through a wide range of measures. ADLER offsets any unavoidable residual emissions through the purchase of recognised climate protection certificates, thereby helping to finance new climate protection projects.