Arova Flex: the all-rounder in ADLER's wide range of wood stains
No other coating technique offers such a diverse range of options as staining. For many years now, ADLER has been the first port of call when it comes to high-quality wood stains for carpenters and joiners. Now ADLER is expanding its range of stains with the addition of a new and especially user-friendly product: Arova Flex, a versatile and easy-to-use water-based hardwood stain.
12 Apr 2023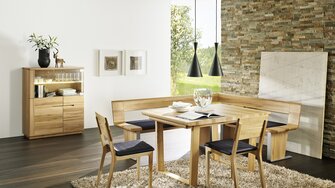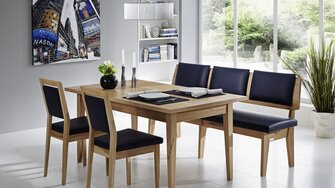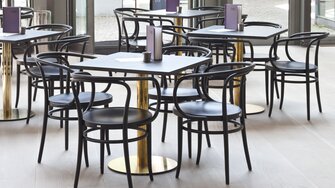 Nothing beats a naturally beautiful wood surface on a piece of furniture or on wall and ceiling panelling. And with the right stain, the authentic character of the wood can be brought out even more: the pores and grain of the wood really come into their own and you can choose from a range of wood shades to suit your design. Wood stains therefore offer carpenters countless ways of differentiating their products from the mainstream by offering their customers unique, high-quality surfaces. This is made especially easy with ADLER's Arova Flex. This water-based hardwood stain is incredibly user-friendly and versatile: it can be used with any application technique – dip-coating, spray coating or wiping on – and can then be finished off with a topcoat of water-based or solvent-based varnish. Arova Flex creates an extraordinarily beautiful stain finish which is wonderfully vibrant and really accentuates the wood pores. "This stain contains extra-fine, micronised pigments which penetrate the wood especially well. Arova Flex therefore stands out from the crowd with an elegant look that emphasises the wood pores and an outstanding degree of lightfastness," explains Jutta Libowitzky, who developed the new product together with her team in the Wood Stains Division of the ADLER Laboratory.
Clearly presented wood stain cards
Wood stains are genuine all-rounders. They can be used to either emphasise or provide a balance to areas of contrast, to tint wood or bring out its natural colour, to create a calm and elegant or a distinctive, rustic look – anything is possible. For this reason, ADLER offers its customers the right products for all areas of application. To make it easier for customers to find what they need in such a diverse range of wood stains, Jutta Libowitzky and her team have reworked ADLER's wood stain cards with countless original samples and the addition of a new range of on-trend colours. "Our new wood stain cards give customers a compact overview of the wide range of different looks that can be achieved with each stain. In addition to this, carpenters will also find all the information they need for the correct and safe application of the stains," explains Libowitzky. This means that in future it will be even easier for carpenters to find the right stain for the look they are trying to create and to satisfy their customers with individual and distinctive surfaces.
ADLER – paint runs through our veins
With 720 employees, ADLER is Austria's leading manufacturer of varnishes, paints and wood preservatives. Founded in 1934 by Johann Berghofer, this family business is now managed by a member of the third generation, Andrea Berghofer. Every year, 21,000 tonnes of paint leave the Schwaz plant and are delivered to customers in more than 30 countries worldwide. ADLER has sales subsidiaries in Germany, Italy, Poland, the Netherlands, Switzerland, the Czech Republic and Slovakia; their sole production site is the ADLER-Werk Lackfabrik in Schwaz, Tyrol (Austria). ADLER was one of the first companies in its sector to be 100% climate-neutral (since 2018). The company has been able to reduce its carbon footprint to a minimum through a wide range of measures. ADLER offsets any unavoidable residual emissions through the purchase of recognised climate protection certificates, thereby helping to finance new climate protection projects.