ADLER Clean-Smart: Innovative cleaning system for all painting equipment
Modern painting equipment ensures high quality and efficiency in the coating process.
20 May 2021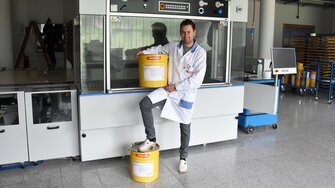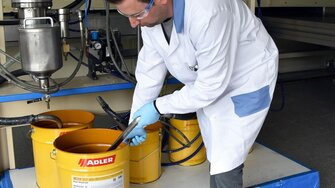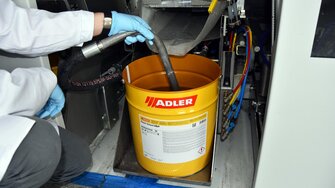 However, the equipment also requires a great deal of maintenance and cleaning because the paints and varnishes used not only adhere strongly to the surface of the workpiece but also to paint lines, pumps and conveyor belts. The higher the quality requirements for the surface in question, the more meticulously the equipment has to be cleaned – and the greater the costs incurred through the purchase of cleaning agents and downtime of machinery. Small batch sizes in particular often mean an enormous amount of additional costs. ADLER Clean-Smart can now provide a remedy for this problem: this innovative cleaning system for water-based paints and varnishes ensures reliable, efficient and environmentally friendly cleaning of all coating equipment, from hand-held sprayers to automatic spraying machines.
Unique cleaning system
"As a premium supplier, we not only provide our customers with high-quality coating solutions for any area of application, but also see ourselves as a service partner for the entire coating process," explains Daniel Pesserer, ADLER Sales Director for the Furniture Industry. As he points out, "cleaning the coating equipment is an aspect of the coating process that is often underestimated – downtime due to clogged nozzles means the loss of valuable production time, and contaminated lines or conveyor belts can adversely affect the quality of the painted surface." This is why the Research & Development department of Austria's leading coatings manufacturer ADLER developed Clean-Smart. This unique cleaning system for water-based paints includes ADLER Clean-Smart B&P for conveyor belts and paint lines or pumps, ADLER Clean-Smart Gel for paint lines and ADLER Clean-Smart 2K for 2C systems. All their cleaning agents are characterised by a high level of efficiency and outstanding cleaning power – this saves both time and costs and keeps VOC emissions to a minimum. Furthermore, each cleaning agent has been optimised for use in its particular area of application, as ADLER developer Gerhard Schmid explains: "With ADLER Clean-Smart B&P, we have minimised the formation of lather, thereby preventing contamination due to overflowing containers." ADLER Clean Smart 2K is compatible with many different hardeners and has an extremely low acetone content – this means that the hardener cannot crystallise and the lines will not need to be replaced as frequently. ADLER's innovative Clean-Smart Gel is especially popular with users, Schmid tells us: "Due to its gel-like consistency, the cleaning fluid adheres extremely well in the paint line and is therefore particularly effective. This also means that old paint residues can be removed that might otherwise clog up the nozzles or contaminate the painted surface."
Universal and environmentally friendly
From hand-held sprayers to automated or robotic spray systems, from large-scale joineries to industrial kitchen and furniture manufacturers: ADLER Clean-Smart can be used universally on all coating equipment for water-based paints or varnishes, and is also compatible with products from other suppliers. The system also scores top marks when it comes to environmental credentials because, despite its strong cleaning power, ADLER Clean-Smart has significantly lower VOC emissions than comparable products. Maximum cleaning effect with minimum effort, universal and environmentally friendly: ADLER Clean-Smart ensures efficient and straightforward cleaning of equipment, thereby guaranteeing a problem-free coating process.
ADLER – paint runs through our veins
With 630 employees, ADLER is Austria's leading manufacturer of varnishes, paints and wood preservatives. Founded in 1934 by Johann Berghofer, this family business is now managed by a member of the third generation, Andrea Berghofer. Every year, 21,000 tonnes of paint leave the Schwaz plant and are delivered to customers in more than 30 countries worldwide. ADLER has sales subsidiaries in Germany, Italy, Poland, the Netherlands, Switzerland, the Czech Republic and Slovakia; their sole production site is the ADLER-Werk Lackfabrik in Schwaz, Tyrol (Austria). ADLER was one of the first companies in its sector to be 100% climate-neutral (since 2018). The company has been able to reduce its carbon footprint to a minimum through a wide range of measures. ADLER offsets any unavoidable residual emissions through the purchase of recognised climate protection certificates, thereby helping to finance new climate protection projects.