Top-class window coating: ADLER sets new standards with Aquawood Diamond
A window like that can go a long way: Already on the way to the construction site it gets to feel the one or other rough handle. Then it goes up through stairways and - unfortunately not always without damage - through corners and edges. The plasterer still accidentally touches the painted surface with his spatula. And then the window finally sits in its place, heavy rain knocks on the frame, perhaps even a hailstorm thunders down on it. While airing the room, a strong gust of wind bangs it against the wall. And inside? It comes into contact again and again with sticky children's hands and creamed mama hands. That's why windows need protection. And that's why ADLER has now developed an even stronger, more resistant window coating system: Aquawood Diamond withstands the toughest loads - hard, durable and unyielding like a diamond!
7 May 2019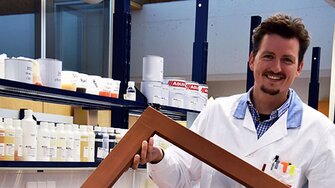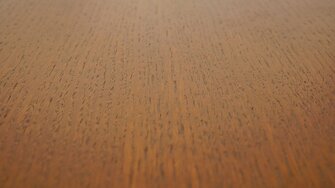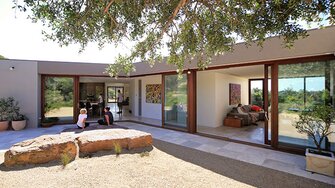 Touch without attacking
"Window and sliding door elements are becoming ever larger and heavier," explains Dr. Simon Leimgruber, head of the ADLER development department for window coatings. Almost inevitably, the owners have to touch the frame when opening or closing it. The natural grease on the skin attacks the wood and scratches can easily occur. Transport and assembly are also difficult for large parts and are therefore more susceptible to damage. On the outside, wooden windows suffer from the ever more extreme weather conditions. Large heat, UV radiation, cold, rain showers and hailstorms represent an enormous load.
Hard as a car paint
In order to master these challenges, ADLER relies on a technology that has already proven itself many times over, but which represents new territory in the field of window coatings: A two-component water-based coating system in which extreme resistance is achieved by adding a hardener. ADLER now offers a top-class 2-component coating structure for windows. Glazing as well as opaque, Aquawood Diamond achieves an unbelievable hardness and resistance that is equivalent to a car paint. "The resistance is 47 percent higher than with comparable window paint systems," emphasizes Leimgruber. At the same time Aquawood Diamond is equipped with an extremely high permanent elasticity, whereby the coating resists even hailstorms and the like. Excellent cream and grease resistance makes the Diamond window particularly resistant to daily contact. "In addition, we have doubled the wet adhesion, which is why even high moisture loads cannot harm the paint structure", states Leimgruber proudly.
Stunning look
And last but not least, Aquawood Diamond convinces with its beautiful appearance, which is not accidentally equivalent to that of a high-quality furniture surface: "The structure with the water-based wood preservative impregnation Aquawood Primo, the two-component primer Aquawood Diamond Sealer and the premium top coat Aquawood Diamond Top ensures perfect pore patterning and a particularly elegant appearance", explains Leimgruber. The primer and top coat are available in an opaque and a glazing version, which allows an enormous variety of designs in all imaginable colours. Beautiful, resistant, top-class - Diamonds are also "a girl's best friend" in the window area!