Acryl-Spritzlack Q10 G
Basis zum Tönen
/

1 kg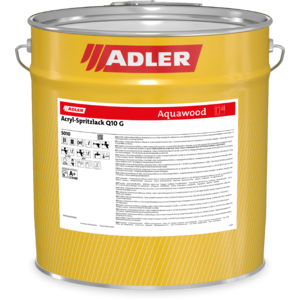 Article number:4327011
Application method:
Water-based, glossy, pigmented topcoat with excellent weathering resistance and permanent elasticity. High block resistance, excellent impact strength, fast water resistance and short drying times as well as improved resistance against mechanical stresses characterise the product besides a natural look and the properties of a good haptic performance.

Basis of the system
Advantages of the product
Good stability on vertical surfaces with optimal flow
Particularly low number of micro-bubbles with airless spray application as a result of highly active de-foaming and de-aerating agents.
Verification of suitability according to DIN EN 927-2 Outdoor exposure
ÖNORM EN 71-3 "Safety of toys; Migration of certain elements" (free of heavy metals)
French Ordinance DEVL1104875A regarding the labelling of construction coating products with respect to their emission of volatile pollutants: A+
Special features
Safety of toys
Perspiration and saliva proof properties
UV resistance
Block resistant
For dimensionally stable timber components
Quick drying
Water resistant
Very good weather resistance
Can be tinted
Hazard warnings
EUH208

Contains (name of sensitising substance). May produce an allergic reaction.

EUH210

Safety data sheet available on request.
Area of application
Dimensionally stable wooden components such as wooden windows and doors or garage gates
For humid areas (e.g. indoor pools) only with special system
For front doors, additionally with the colourless topcoat Aquawood Protect G90 53216
We recommend Pullex Color 50530 or Pullex Aqua-Color 53331 for wooden components that are not dimensionally stable
 Please follow the respective technical data sheets of the products.
| Description | Size | Type of file | |
| --- | --- | --- | --- |