Acryl-Flutfüller Weiß
Weiß
/

25 kg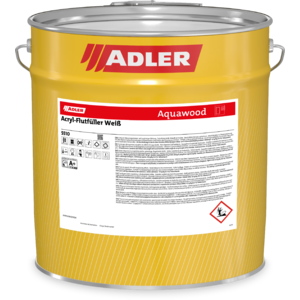 Article number:551005000025
Application method:
Attention: use wood preservatives safely. Always read the label and product information before use.
Water-based, white intermediate coat. Very goodinsulation, very good body and very good anti-blocking properties in thecoating cycle with ADLER Acryl-Spritzlack. Improves the weathering resistanceof the paint structures by means of optimal moisture protection. High bodylevel, very good pore wetting especially on coarse-pored kinds of wood(Meranti).
Basis of the system
Advantages of the product
The coating is protected against infestation by blueing and fungus thanks to a biocidal active substance. Active substance: 0.4 % (0.4 g / 100 g) tebuconazole 
French ordinance DEVL1104875A regarding the marking of construction coating products for their emission of volatile pollutants: A+
Special features
UV resistance
Block resistant
For dimensionally stable timber components
Wood protection
Dilutable in water: yes

Protection against fungal decay
Protection against mold
Area of application
Dimensionally stable wooden structural elements in theoutdoor area such as wooden windows, front doors or garage doors in thecategories of use 2 and 3 without ground contact.