ADLER Clean Disinfectant Pro
Desinfektionsmittel Fläche
/

5 l
Alcohol-based surface disinfectant for professional and non-professional users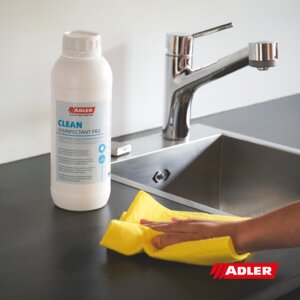 Alcohol-based surface disinfectant for professional and non-professional users
Article number:806700021005
Alcoholic, ready-to-use surface disinfectant with bactericidal, fungicidal and virucidal effect. The product acts quickly and is completely residue-free.
For rapid, general disinfection of alcohol-resistant, non-porous surfaces and objects, especially in health care facilities (e.g. toilet seats, door handles, bedsteads, rescue vehicles), working surfaces in medical laboratories and surfaces in food and canteen kitchens, including those that come into contact with food or feed. Synthetic materials and coated surfaces must be tested for material compatibility before use. In any case, do not use on plexiglass or polycarbonate.
Note on the smell:
ADLER uses only bio-ethanol for the production of its disinfectants. While synthetic ethanol is produced on the basis of fossil raw materials (crude oil), bio-ethanol is obtained by fermentation of biomass. A characteristic of this sustainable ethanol is that the smell can vary depending on the natural raw materials used. This can sometimes be perceived as unpleasant. In any case, the effectiveness of ADLER Clean Disinfectant Pro is not affected by this.
Basis of the system
Hazard warnings
Danger

H225

Highly flammable liquid and vapour

H319

Causes serious eye irritation

P102

Keep out of reach of children.

P210

Keep away from heat, hot surfaces, sparks, open flames and other ignition sources. No smoking.

P233

Keep container tightly closed.

P501

Dispose of contents/container to ...