Aqua-Step Silent G10
1K und 2K verarbeitbar!
/

4 kg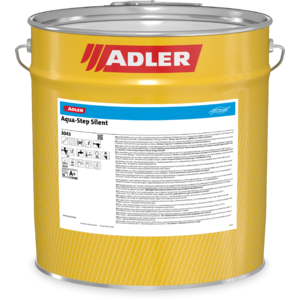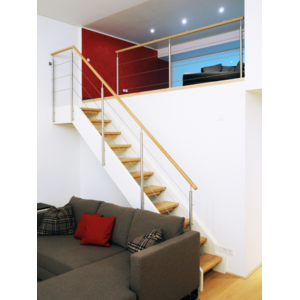 Article number:304300011004
Application method:
Transparent, water-based, squeak-free sealing coat that can be used as a one-component or two-component coating for staircase steps with non-slip finish; excellent resistance to abrasion, outstanding filling power, good block resistance, excellent chemical resistance, good transparency, very good firmness on vertical surfaces, resistant to creams and grease (CFB).
Basis of the system
Advantages of the product
ÖNORM A 1605-12 (furniture surfaces):Resistance to chemical reactions:For 1-comp. processing: 1-BFor 2-comp. processing: 1-B1Response to abrasion: 2-C (≥ 150 U)Response to scratches:For 1-comp. processing: 4-E (≥ 0.5 N)For 2-comp. processing: 4-D (≥ 1.0 N)
ÖNORM A 3800-1 (fire behaviour) in conjunction with a flameretardantsubstrate:highly non-combustible or flame-retardant (formerly B 1 in accordance with B 3800 -1), Q1, Tr 1
ÖNORM C 2354 (wooden floors): stress category C (for dualcomponentusage);
ÖNORM Z 1261 (walkable surfaces): class I (> 0.44 µ), whendry
DIN 51131 (determination of the anti-slip property ): 0,30 - 0.45µ, when dry
Meets the criteria of the anti-slip property class R9 in accordance with BGR 181 (previously ZH 1/571) and DIN 51130, if 10% ADLER Aquafix S grob 91201 is added into the finishing coat.
French ordinance DEVL1104875A regarding the marking of construction coating products for their emission of volatile pollutants: A+
Special features
A+ Emission of volatile pollutants
Hazard warnings
EUH208

Contains (name of sensitising substance). May produce an allergic reaction.

EUH210

Safety data sheet available on request.
Area of application
For professional and industrial coating of staircase steps.
Non-slip and squeak-free properties
You can achieve a high level of suitability for use if you spray three coats of ADLER Aqua-Step Silent 3043 + 7 % ADLER Aqua-PUR-Härter (hardener) 82220 with intermediate sanding respectively; the requirements of stress category C (particularly severe stress) in accordance with ÖNORM C 2354 are met. When used as a one-component system, the requirements of stress category A and B are satisfied.
Mix
100 parts Aqua-Step Silent G10

7 parts hardener

pot life:8 hours
| Description | Size | Type of file | |
| --- | --- | --- | --- |