Solvent-based 2K polyurethane primer for furniture and interior finishing for industrial and professional use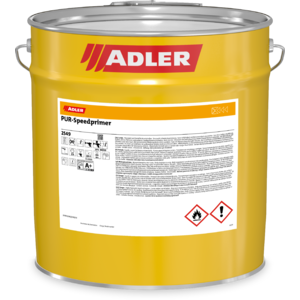 Solvent-based 2K polyurethane primer for furniture and interior finishing for industrial and professional use
Article number:2529220
Yield: approx. 70 - 100 g/m²
Fast-drying, transparent 2-component primer. Excellent grain accentuation. The product roughens the wood surface less than water-based primers; thus, the work of intermediate sanding gets reduced. Water-soluble wood substances (e.g. in the case of woods rich in tanning agents such as Oak or Larch) will not be activated; the associated problems of discolouration do not occur. The product is recoatable with water-based coatings.
Basis of the system
Special features
A+ Emission of volatile pollutants
Perspiration and saliva proof properties
Hazard warnings
Danger

EUH066

Repeated exposure may cause skin dryness or cracking.

EUH208

Contains (name of sensitising substance). May produce an allergic reaction.

H225

Highly flammable liquid and vapour

H319

Causes serious eye irritation

H336

May cause drowsiness or dizziness

P210

Keep away from heat, hot surfaces, sparks, open flames and other ignition sources. No smoking.

P261

Avoid breathing dust/fume/gas/mist/vapours/spray.

P312

Call a POISON CENTRE/doctor/… if you feel unwell.

P501

Dispose of contents/container to ...
Area of application
For the coating of furniture and interior finishing exposed to high levels of stress, such as tabletops and shelves in the kitchen and living area, bathrooms, offices and in the contract sector, fronts and permanently visible areas, surfaces used on seating furniture and not permanently visible areas. Application areas II – IV in accordance with ÖNORM A 1610-12.Application in combination with a suitable topcoat system.

This product is also suitable for industrial series coating.

For hardly inflammable or flame-retardant coating systems.

Suitable for the coating of surfaces bleached with hydrogen peroxide.

Alternative wood stain after colouring with ADLER Solva-Tint 89601 ff.

Surfaces primed with ADLER PUR-Speedprimer 25292 can be overcoated with both solvent-based and water-based wood coatings.
Mix
100 parts PUR-Speedprimer

5 parts hardener

100 parts by weight of ADLER PUR-Speedprimer 25292 ff
5 parts by weight of ADLER PUR-Härter 82029

ADLER PUR-Speedprimer 25292 ff can only be used with a hardener and in the mixing ratio specified. Deviations lead to film and adhesion problems.

pot life:8 hours