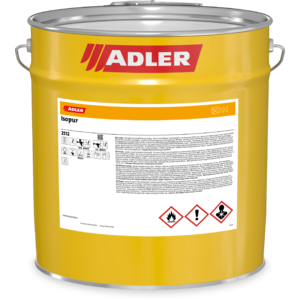 Article number:2610304
Application method:
Quick-drying polyurethane varnish with good brighteningeffect; high mechanical and chemical resistance, attractive pore pattern.


Binding agent basis: Oil-modifiedpolyester resin/cellulose acetate butyrate and nitrate.
Basis of the system
Special features
Hazard warnings
Danger

EUH066

Repeated exposure may cause skin dryness or cracking.

H225

Highly flammable liquid and vapour

H319

Causes serious eye irritation

H336

May cause drowsiness or dizziness

H412

Harmful to aquatic life with long lasting effects

P210

Keep away from heat, hot surfaces, sparks, open flames and other ignition sources. No smoking.

P261

Avoid breathing dust/fume/gas/mist/vapours/spray.

P273

Avoid release to the environment.

P312

Call a POISON CENTRE/doctor/… if you feel unwell.

P501

Dispose of contents/container to ...
Area of application
For all light types of wood, particularly softwoods, ifthe natural colour of the wood should be largely maintained. 
For all surfaces in the furnitureand interior design sector varnished to make them brighter, if a highresistance is required. 
For non-flammable or difficult toignite structures. 
Suitable for areas bleached withhydrogen peroxide. 
As ADLER Isopur 26101 ff is a brightening material, we onlyrecommend its use for the application groups III to IV pursuant to ÖNORM A1610-12, although this varnish meets the requirements for the applicationgroups II to IV according to the standard. 
ADLER Isopur 26101 ff is not suitable for varnishing dark kinds ordark stained wood surfaces due to its good brightening effect.
Mix
10 parts Isopur

1 parts hardener

pot life:8 hours